Space Shuttle Endeavour Blasts Off on Final Flight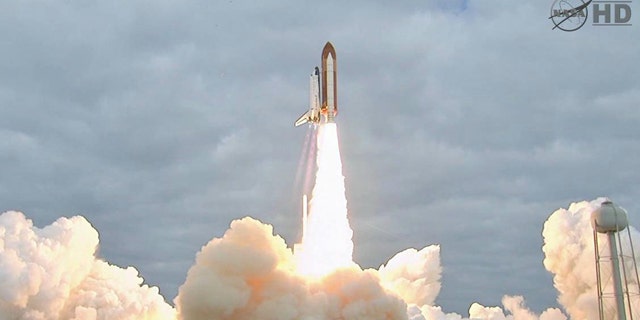 NEWYou can now listen to Fox News articles!
CAPE CANAVERAL, Fla. – Space shuttle Endeavour rocketed into space Monday morning from Kennedy Space Center, led by mission commander Mark Kelly on the final mission for the youngest vehicle in the space fleet.
Over 6 million pounds of thrust from the shuttle's rocket booster carried Endeavour into orbit, at speeds of up to 19,000 miles per hour, for an expected meeting with the International Space Station on Wednesday.
"It's incredible how you can see this machine hurled into space like the fastest fastball ever thrown, going to Mach 25 -- 25 times the speed of sound -- and it's an incredible race to orbit," former NASA astronaut Tom Jones told Fox News.
"It's one of the greatest physical sensations an human can experience," he added.
Just before launching, commander Mark Kelly made some patriotic remarks: "It's in the DNA of our great country to reach for the stars and explore. We must not stop. To all the millions watching today, including our spouses, children, family and friends, we thank you for your support."
Crosswinds and clouds had threatened on the day before lift-off, but the weather held and skies were clear for the shuttle.
Endeavour is bound for the Space Station one last time before heading to retirement at a Los Angeles museum. The shuttle's experienced, all-male crew will deliver and install a $2 billion particle physics experiment during the 16-day flight, as well as spare station parts.
Mission commander Kelly is the astronaut husband of wounded Arizona Rep. Gabrielle Giffords, who was back in attendance for the second launch attempt.
Giffords flew in Sunday from Houston, where she's undergoing rehab for a gunshot wound to the head; she was shot at a Jan. 8 political event in her Tucson, Ariz., hometown. Her recovery has been so remarkable that doctors approved both trips to Cape Canaveral.
The Arizona congresswoman was shielded from the cameras on launch day, as were the families of the other five astronauts. All watched the liftoff in private -- she and Kelly said their goodbyes, face to face on Sunday.
"Who's ready for the best show on Earth? Giffords' staff said in a Twitter update hours before liftoff.
Kelly's identical twin, Scott, who's also an astronaut, witnessed the launch with his two teenage nieces, Mark's daughters from a previous marriage.
As many as 45,000 guests jammed NASA's launch site. The crowd outside the gates was estimated to be in the tens of thousands, if not more.
One final shuttle mission remains, by Atlantis in July.
NASA spent the past two weeks replacing a switch box with a blown fuse as well as a suspect thermostat, and installing new wiring.
Endeavour is the baby of NASA's shuttle fleet. It was built to replace the Challenger, lost in a 1986 launch accident. Endeavour first flew in 1992 -- it ended its first mission 19 years ago Monday.
NASA is retiring its three remaining space shuttles after 30 years to concentrate on interplanetary travel. The space agency wants to hand over the business of getting crews and cargo to the space station, to private companies. At least one company, Space Exploration Technologies Corp., said it can get astronauts to the space station within three years of getting NASA approval.
The Associated Press contributed to this report.