Space Shuttle Discovery Prepares for Return to Earth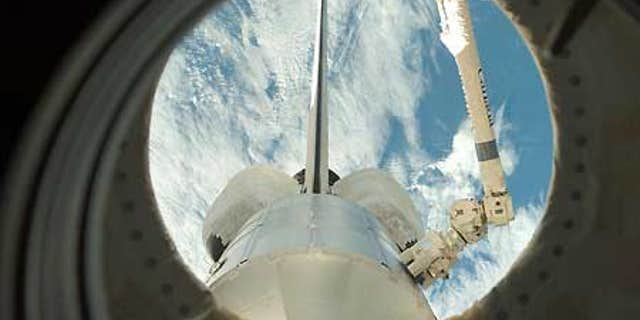 NEWYou can now listen to Fox News articles!
CAPE CANAVERAL, Florida – Space Shuttle Discovery astronauts began preparing their spacecraft for its planned Thursday landing as they wrap up a 13-day flight to the International Space Station.
Mission Control roused the astronauts at 11 a.m. EDT Wednesday with the song "Sailing" by Rod Stewart, a tune selected for Swedish astronaut Christer Fuglesang.
The astronauts will spend the day converting Discovery into a 100-ton glider, stowing last bits of cargo and testing its flight controls. They will also speak to reporters and set up a special recumbent seat for astronaut Tim Kopra, who is returning to Earth after nearly 2 months in space.
Mission Control, meanwhile, determined that the space station will not need to move out of the way of a piece of space junk that will pass within roughly 45 miles early Wednesday. It's a fragment from a Chinese satellite that was blasted by a missile two years ago.
It won't be long before another spacecraft drops by. Japan's brand new cargo ship will be launched Thursday and hook up to the space station one week later. Then at the beginning of October, a Russian Soyuz spacecraft will arrive with a fresh station crew and a billionaire tourist, Cirque du Soleil founder Guy Laliberte.
The space station is now 84 percent complete with a mass of more than 710,000 pounds. Six shuttle flights remain to wrap up construction. Atlantis is up next in November with a load of big spare parts.
NASA hopes to finish the station and fly the shuttle for the last time by the end of 2010 or early 2011. The future of human spaceflight, however, is unclear. A White House panel of independent space experts said in a report Tuesday that NASA cannot afford to return astronauts to the moon by 2020 as envisioned.
The Associated Press contributed to this report.