Space Shuttle Discovery Launch Delayed 24 Hours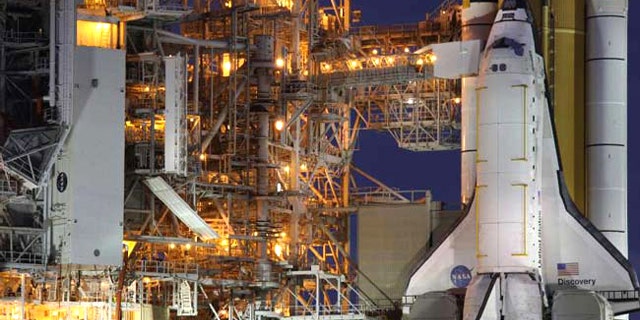 NEWYou can now listen to Fox News articles!
CAPE CANAVERAL, Fla. – CAPE CANAVERAL, Fla. – Discovery's final launch has been delayed at least 24 hours due to issues with the engine controller in a backup system on the space shuttle. Mission managers made the decision that extra time is needed to address the glitch and analyze data, preventing an on-time launch tomorrow afternoon (Nov. 3).
The next attempt to launch will come no earlier than Thursday (Nov. 4) at 3:29 p.m. (1929 GMT).
During the shuttle's main engine checkouts today, the backup controller for Discovery's Main Engine No. 3 did not turn on as expected, NASA officials said in a statement. Voltage irregularities were observed, and engineering teams subsequently began investigating the problem.
Earlier today, shuttle engineers had also noticed a separate problem with the same backup computer system, but those issues were said to have been fixed. [GRAPHIC: NASA's Space Shuttle – From Top to Bottom]
The shuttle's STS-133 mission management team met at 5 p.m. (2100 GMT) today, and decided to push the next attempted launch to Thursday.
Discovery was slated to blast off tomorrow at 3:52 p.m. EDT (1952 GMT) from its seaside pad here at NASA's Kennedy Space Center. The shuttle's launch has already been delayed by two days as a result of other technical issues that have since been resolved.
Discovery was originally scheduled to launch Nov. 1 at 4:40 p.m. EDT (2040 GMT). The space agency delayed the launch by one day, to Nov. 2 at 4:17 p.m. EDT (2017 GMT), after detecting helium and nitrogen leaks on the shuttle. Another day of delay, to allow time to complete repairs, pushed the launch to Nov. 3.
With the new Thursday launch date, however, Mother Nature could further complicate the situation. A weather front is pushing down into parts of central Florida that could ground the orbiter for longer, according to Kathy Winters, NASA's shuttle weather officer.
Current forecasts call for a mere 30 percent chance of favorable launch conditions in the area.
Space shuttle Discovery is set to fly on its 39th and final mission to the International Space Station on an 11-day mission to haul critical spare parts to the space station, including a storage room and a humanoid robot to assist the crew of the orbiting laboratory.
NASA has until Sunday, Nov. 7 to launch Discovery within the current window. After that, the space agency would have to wait until early December to try again.
* Gallery: The Construction of Space Shuttle Discovery
* Video – Space Shuttle Discovery: A Retrospective, Part 2, Part 3
* Space Shuttle Discovery's Retirement Plan in Limbo
Copyright © 2010 Space.com. All Rights Reserved. This material may not be published, broadcast, rewritten or redistributed.