Space probe launched to study northern lights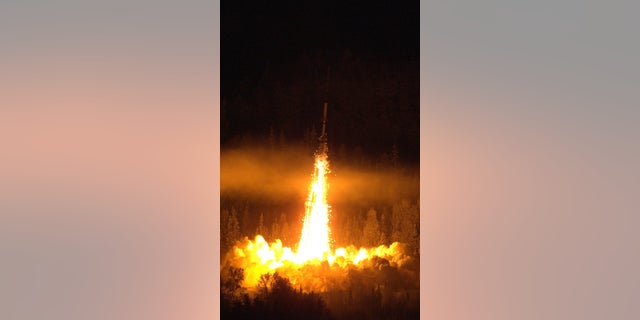 NASA and Utah State University successfully launched a probe into the northern lights early on Wednesday.
The Aurora Spatial Structures Probe (ASSP) was launched at 5:41 a.m. ET from the Poker Flat Research Range near Fairbanks, Alaska, carrying six payloads into the Aurora Borealis.
"The successful launch of the Auroral Spatial Structures Probe will enable scientists and satellite operators to better understand the energy processes during auroral activity in the thermosphere and its effects on satellites as they orbit Earth," said Professor Charles Swenson, director for the Center for Space Engineering at Utah State and the principal investigator for the ASSP mission, in a statement. "Solar winds produce electric currents in the upper atmosphere where auroral activity occurs, and those currents produce heat that can expand the thermosphere which increases the drag on satellites significantly."
The ASSP mission launched a large central measuring instrument, as well as six small probes ejected from the main instrument in midflight. Each small probe is six inches in diameter and weighs seven pounds.
"They are ejected from the rocket in different directions at high velocity, essentially acting as space buoys, to create a network of measurements that will allow us to see the structure of the aurora over a much wider area than was possible before," said Tim Neilsen, ASSP program manager at the Space Dynamics Laboratory (SDL), a unit of the Utah State University Research Foundation.
Scientists are seeking to increase their knowledge of the Aurora Borealis.
On Monday four NASA soundings rockets were launched near Fairbanks into the northern lights in an effort to better understand and visualize turbulent air currents in the upper atmosphere.
The Fairbanks Daily News-Miner reports the rockets appeared to have produced data.
The launches into the active aurora in minus 40 degree weather came after 13 straight nights of unsuitable weather for a launch.
Two rockets were led by University of Alaska Fairbanks Geophysical Institute's Rich Collins to measure turbulence. The institute says in a release that the other two rockets led by Miguel Larsen of Clemson University released a visible vapor to help researchers visualize turbulence about 60 miles above the ground.
The Associated Press contributed to this report.