Southern California can't get rid of rotting 22-ton whale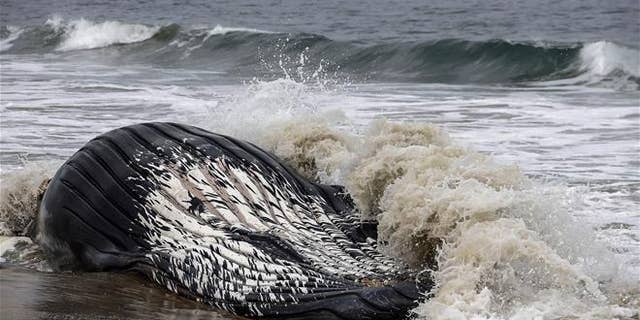 Wally the dead whale has apparently been washing up on beaches in southern California a lot more reliably than the swallows now return to Capistrano. The body of a dead humpback whale that turned up in Encinitas, northern San Diego County, is believed to be the same whale that has already been towed out to sea at least five times after washing up on beaches in Los Angeles and Orange Counties, ABC7 reports.
Last week, the Los Angeles Times reported that the 22-ton female carcass, which first turned up on Dockweiler State Beach June 30, appeared to be staying away from the beach it hit next—Newport Beach—after being towed out to sea several times.
Wally keeps coming back because officials haven't towed her far enough out to sea to avoid winds and currents bringing the 45-foot carcass back to shore, the Daily Breeze reports.
Time and vessel size constraints mean Wally has been towed out around 15 miles each time when 30 miles would be more appropriate, experts say. But the saga may soon be over: The San Diego Union-Tribune reports that officials in Encinitas plan to cut up the decaying whale—which can now be smelled at least a quarter of a mile away—and dump it in a landfill.
A construction crew tried to get rid of Wally on Sunday, but they gave up after part of a forklift snapped and will resume the effort on Monday, officials say.
(This whale ended up covered in graffiti after washing ashore in New Jersey.)
This article originally appeared on Newser: Southern California Plagued by Rotting 22-Ton Whale