Solar Impulse team plans solar-powered satellite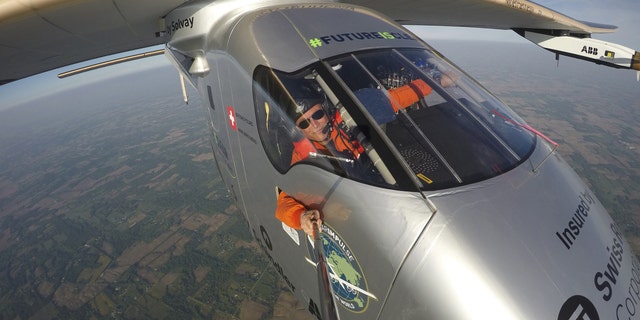 NEWYou can now listen to Fox News articles!
The team behind the record-breaking Solar Impulse 2 plane is looking to harness the aircraft's technology for a new solar-powered satellite.
"One of the possible spinoffs is to produce an unmanned Solar Impulse to fly 20 kilometers [12.4 miles] high in the stratosphere," Solar Impulse Chairman Bertrand Piccard told FoxNews.com during an interview in New York. "It's to provide cheap satellite for Wi-Fi, GSM connections, observation for agriculture – our engineers are working on that now."
Piccard was at the controls of Solar Impulse 2 when it reached Abu Dhabi in July, completing the final leg of the first solar-powered journey around the world. The plane, which set off from Abu Dhabi in March 2015, traveled 26,744 miles on its odyssey and racked up 558 hours of flight time.
The Solar Impulse chairman took turns with former Swiss military pilot Andre Borschberg to fly the single-seat plane around the world.
Now the Solar Impulse team wants to use the record-breaking flight as the launch pad for new technology. "We have a very, very experienced team and we want to use all this expertise, in the technological point of view, to bring something new to the world of low-altitude satellites," said Piccard. "With solar power it can stay up for years – if you have a problem you can bring it back down, repair, and send it back up."
There is no date set for the satellite's launch, according to Piccard, who said that Solar Impulse needs an industrial partner to produce the craft.
Other organizations are also looking to deliver internet services via unmanned solar-powered aircraft, such as Facebook's Aquila drone. Last month Facebook CEO Mark Zuckerberg gave Pope Francis a model of the drone during a meeting at the Vatican.
Solar Impulse 2's epic journey highlights the importance of renewable energy such as solar power, according to Piccard. "Today, there are a lot of modern clean technologies that are available for our world – it's not just for the protection of the environment, it's for industry," he said. "We need to make these technologies much better known so that they will be better used."
Towards the end of their global odyssey Piccard and Borschberg announced a plan to create the International Committee of Clean Technologies (ICCT), which aims to provide independent energy policy guidance to governments and corporations.
Piccard explained that Solar Impulse is working on the ICCT statutes now and hopes to have the Committee set up by in time for the United Nations' COP22 climate change conference, which takes place in Marrakech, Morocco, in November.
"The goal of this International Committee is to stop talking about problems of pollution and start talking about solutions, and to advise governments and corporations on how to maximize job creation and fighting pollution at the same time," he said.
Follow James Rogers on Twitter @jamesjrogers