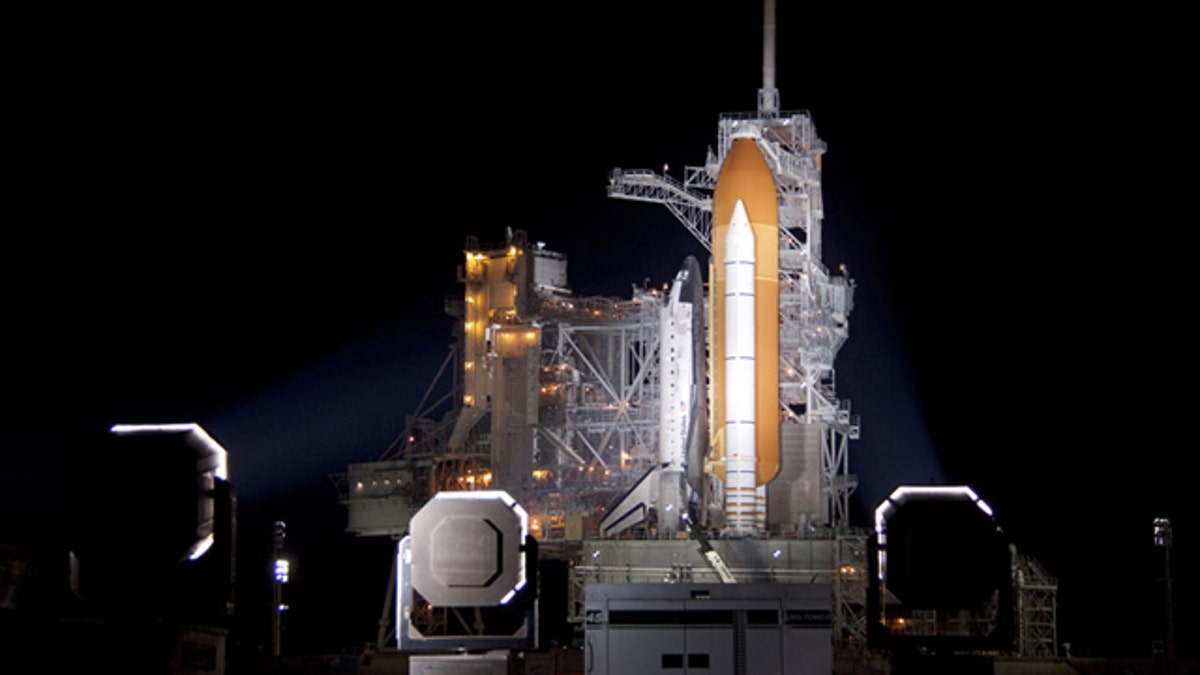 CAPE CANAVERAL, Fla. – A leak of flammable liquid hydrogen cropped up during fueling for Friday's planned liftoff of space shuttle Discovery. NASA initially delayed the launch until at least Monday. But by early afternoon, it was clear that more time was needed to fix the problem.
NASA is now targeting Nov. 30 for Discovery's final liftoff. The space agency has to wait until then because of unacceptable solar angles for most of November. Those sun angles would cause the shuttle to overheat while docked to the station.
This is the fourth delay in a week for Discovery's mission to the International Space Station. Three of the four were for technical problems, and one was for stormy weather.
The hydrogen gas leak was detected at around 7:30 a.m. EDT (1130 GMT) in a location known as the Ground Umbilical Carrier Plate, which is an attachment point between the external tank and a 17-inch pipe that carries gaseous hydrogen safely away from the shuttle to the flare stack, where it is burned off.
The external tank is now being drained of the propellant, but it will take an additional 22 hours or soi to allow excess hydrogen in that area to be purged away before technicians can return to the pad to investigate the cause of the leak.
"Right now it's a lot of speculation, but the hardware was obviously talking to us – it was leaking significantly," said Mike Leinbach, NASA's shuttle launch director. "We elected to scrub, and that was the best course of action."
Similar issues have affected launch attempts for two previous shuttle missions, both in 2009. [GRAPHIC: NASA's Space Shuttle – From Top to Bottom]
Technicians discovered the leak while filling Discovery's distinct, orange external tank with liquid oxygen and liquid hydrogen. This procedure, known as tanking, fills the external tank with the 520,000 gallons of cryogenic propellant that will be used to fuel the shuttle during liftoff and ascent into space.
Discovery will fly an 11-day supply mission to the International Space Station to deliver a humanoid robot helper for the station crew and a new storage room for the orbiting lab. The orbiter has already faced down a series of setbacks, including a pair of gas leaks, an electrical glitch and, most recently, uncooperative weather.
The STS-133 mission will be Discovery's grand finale in space before being retired along with the rest of NASA's shuttle fleet in 2011.
* GRAPHIC: NASA's Space Shuttle – From Top to Bottom
* Gallery: Building Space Shuttle Discovery
* Video – Space Shuttle Discovery: A Retrospective, Part 2, Part 3
Copyright © 2010 Space.com. All Rights Reserved. This material may not be published, broadcast, rewritten or redistributed.