Shark attack victim in Massachusetts says he punched predator in gills to escape
A man who was bitten by a suspected great white shark earlier this month at a Cape Cod beach said in his first interview on Tuesday he was able to escape after punching the predator in the gills.
William Lytton, 61, of Scarsdale, N.Y., told The Associated Press he was swimming a few yards from the shore at Long Nook Beach in Truro, Mass., when the shark bit down on his leg.
"I was terrified, but, really, there was no time to think," he told the AP after attending physical therapy session at Spaulding Rehabilitation Hospital in Boston.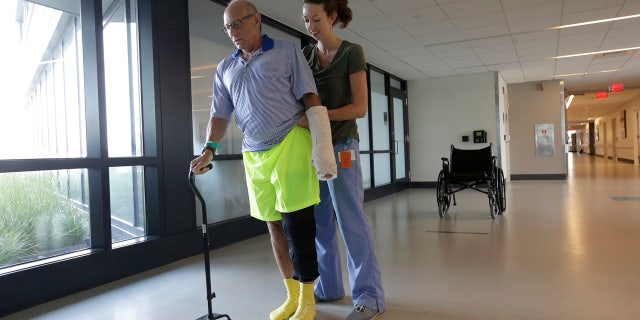 The 61-year-old said he smacked the shark's gills with his left hand, which resulted in three torn tendons. Lytton told the AP he must have recalled from nature documentaries that the gills were one of the most vulnerable parts of the shark.
"It doesn't feel like I did anything heroic," he said. "A lot of this was luck."
GREAT WHITE SHARK SUSPECTED IN CAPE COD BEACH ATTACK
The shark missed critical nerves and veins, and didn't damage any of Lytton's bones, according to a trauma surgeon who treated Lytton. The 61-year-old still had to undergo eight surgeries, and was given nearly 12 pints of blood in addition to hundreds of sutures to stitch him back together.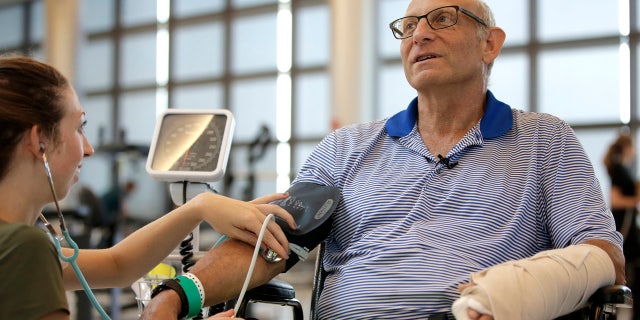 "These were extensive, very severe injuries," trauma surgeon Eric Mahoney told the AP. "He had multiple lacerations from his hip down to just above his knee that went 75 percent around his leg. In two areas they went all the way down to the bone."
GREAT WHITE SHARK FOUND WASHED UP ON MASSACHUSETTS WITH RED HUE ON FACE, UNDERBELLY
Officials are still working to determine if Lytton was bitten by a great white shark, and are studying teeth removed from his leg. Numerous great white sightings have been reported in the area this summer.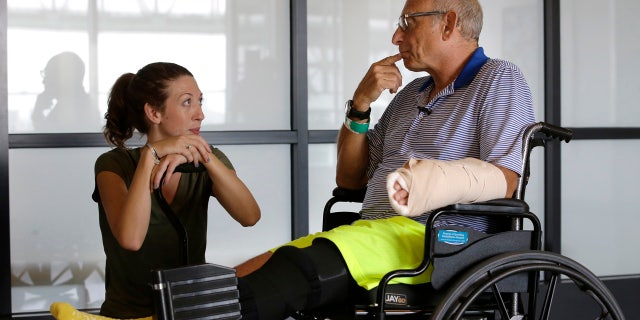 The last shark attack that occurred in Truro was in 2012 when a Colorado man in Ballston Beach was bitten. He was treated and received 47 stitches. The area is a feeding ground for seals, which draw shark and a few witnesses reported seeing seals before the attack.
Despite the public's fear of sharks, the odds of being killed by one are roughly 1 in 3.7 million, according to the National Aquarium in Baltimore.
Fox News' Kathleen Joyce and The Associated Press contributed to this report.