Search for 18-foot python that escaped transfixes Poland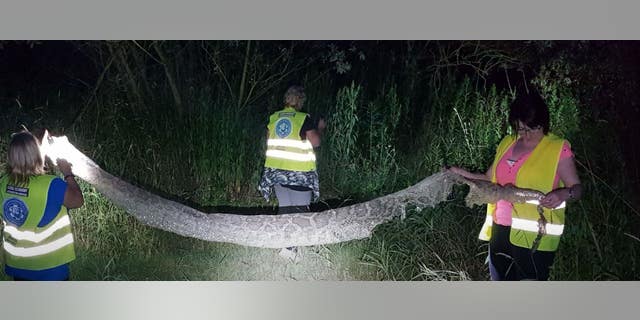 NEWYou can now listen to Fox News articles!
WARSAW, Poland – The summer snake scare began with an act of oversharing.
A fisherman posted to Facebook a picture of an 18-foot-long python's freshly shed skin that he had found in a suburban park.
From there it took off, bringing internet panic. It was the peak of July, and a heat wave had brought weather more suitable for pythons than Poles.
"I am scared for my children and my pets," one Facebook user said.
After reported sightings grew across Poland, local agencies went all out in their snake hunt. The government cleared airspace in the capital last month to let drones pursue the beast. Helicopters, amateur sleuths, a woman dressed as a snake and a celebrity private detective soon elbowed into the quest. A hotline helped police nab three other exotic snakes slithering through town.
Snake droppings suggest that Bertha, as searchers call her, had been eating something out there in the chest-high grass, something furry.
For a country riven by a culture war between its nationalist government and the liberal opposition, the thought of a cruise-missile-length serpent hunting pets in the Warsaw suburbs has become a welcome summer diversion. Thousands of Poles have shared rumors, grim jokes and memes guessing the predator's motives or next moves.
"It has been described as a python-o-mania," said Polish animal-rights author Dariusz Gzyra. "Animals are this type of phenomenon that help unify a divided society."
And yet nobody has found Bertha, who is suspected to have been someone's pet. If she isn't found before autumn, her coldblooded life will end with the summer.
The following account of Europe's biggest snake hunt is based on extensive interviews with the search parties, herpetologists, police and a Belgian shepherd named Cocaine who came closer than any man or machine to finding the missing snake.
Poland's python fiasco points to a conundrum of the modern era: that social media complicates the problems it aims to solve. Trained snake handlers would have found her, experts say, if it weren't for the amateurs who thundered in, posing for Instagram glory.
"The problem is that everybody was walking on the ground, making noise, trying to find an animal that is afraid of noise," said the Warsaw Zoo's Reptile Brigade Leader Olga Pofelska.
ENTIRE ARCTIC EXPEDITION PERISHED, BUT NOT BECAUSE OF LEAD
Poland has at times been better at importing exotic animals than keeping them. A pair of kangaroos hopped away from a petting zoo three years ago. One was later found bouncing through Warsaw. Earlier this year, another zoo's chimpanzee picked his cage's lock and scurried away. In the 1990s, a warthog bolted from his keepers, becoming a local media sensation as well as a four-hoofed metaphor for the nation's thirst for freedom after communism.
With Bertha—an Indian or Burmese python—the alarm began within hours after the fisherman posted his Facebook picture. Under public pressure, police blocked roads and contemplated closing beaches. The local animal-rescue crew entered the area.
The plan at first was to find the snake and poke it with a stick into a cage, searchers said, but the terrain favored the snake. She had settled into a thickly forested, mud-puddled park. Endoscopes nudged into holes failed to find her.
In swarmed the fire brigade, which built a tent city for 40 cadets tapped for the job. Ms. Pofelska briefed the nervous young men.
"A snake is one big muscle," she recalled informing them. "If it comes to contact between man and snake, you have no chance."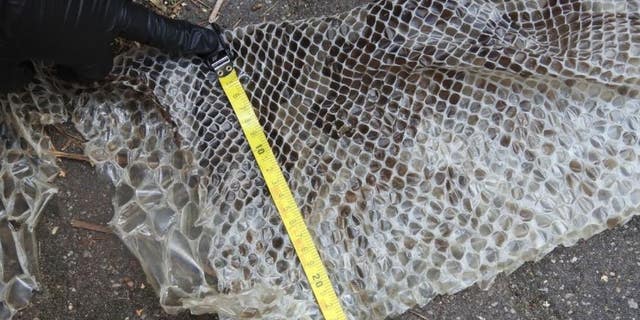 As the cadets, sweating in their protective suits, stepped gingerly through the grass, drones beamed down intelligence monitored in real time.
Some drone feeds lacked precise GPS coordinates. Others captured supposed snakes that turned out to be logs.
Animal rescuers identified python tracks. Some were likely mangled by tire treads and footprints from amateurs who had rushed in.
'PRIDE AND PREJUDICE' COPY FROM 1813 TO HIT AUCTION BLOCK IN NOVEMBER
Days went by. Poles started to doubt their institutions. Social-media users began to wonder whether the snake even existed.
Meanwhile, the police chased their own lead. A hang glider flying over the area had photographed two men hauling a snake to a car. The car belonged to an erotic art photographer who specializes in shooting women wrapped in snakes.
Detectives searched the photographer's home and its serpent-filled bathroom. None of his reptiles matched the skin.
Enter the hero a city needs: Cocaine, a Belgian shepherd recognized as one of Poland's more temperamental but motivated sniffer dogs. Her handlers consider Cocaine, who injured a paw when she was a puppy, prickly but uniquely talented.
Using two different sniff methods, Cocaine combed the woods in late July, detecting spots where the snake had sat or swum into the water. She found some fur-lined snake excrement. At times, she appeared spooked, jumping at the sight of a lizard.
She showed some interest in entering one overgrown area. Her handlers held her back. "We didn't want the snake to eat the dog," said her trainer, Renata Jechorek.
Since then, animal rescuers have chased bum leads dialed in daily. The snake ate a beaver, one fisherman claimed. It attacked me, said another. Callers sound increasingly concerned for the python, said the hotline's operators.
INCREDIBLE MAYA DISCOVERY: ANCIENT KING'S MASK UNCOVERED IN MEXICO
With the chances of finding Bertha dimming, some citizens are back to taking out frustration on the capital's liberal bureaucracy. "Poor animal," wrote one Facebook user. "The system fails again."
Earlier this month, rescuers found one last clue to her past.
"Someone would like to give away a 20-year-old female python, her name is Bertha," reads an anonymous and presumably unanswered online ad posted in February on a local website. "Six meters long. Her previous owner has died and there is no one to take care of her. Would anybody like to adopt a snake?"
— Natalia Ojewska contributed to this article
This article was originally published in The Wall Street Journal