Scope Sees New Details in Sunspot Bigger Than Earth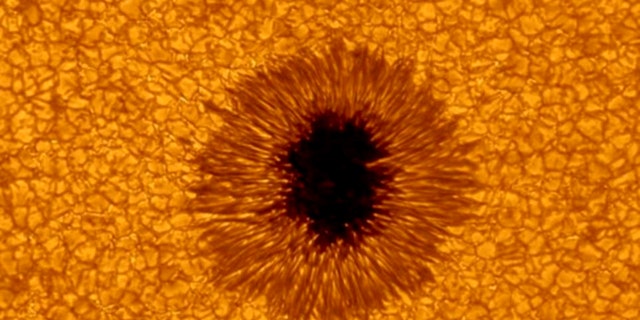 NEWYou can now listen to Fox News articles!
All-seeing eye of Sauron? Cosmic sunflower? Not quite. It's actually a massive sunspot as you've never seen one before, captured in stunning high resolution.
Thanks to a new "deformable" mirror at a Californian observatory, scientists have captured this amazing image, the closest ever taken of a sunspot. And though it appears calm, the reality is quite the opposite.
"What's interesting is that when we look at the sunspot, it appears pretty benign," explained New Jersey Institute of Technology professor Philip R. Goode. But a second picture taken a day earlier tells a very different story, revealing black hair-like fibers that underscore the tremendous tumult within the sun.
"The fibers are actually jets of energy being ejected from the bright magnetic fields at the surface," which Goode calls "the real dynamics of the magnetic region and the jets exploding from the sunspot's edges."
Temperatures at the center of the sunspot are around 6,500 degrees Farenheit, while the surrounding regions are much hotter, more than 10,000F. The irregular shapes that surround the sunspot are granulation from hot gas rising in the sun. Each is over 600 miles in size, making this sunspot around 8,000 miles in diameter.
Planet Earth at the equator is about 7,926 miles.
Of course, most sunspots are bigger than our planet, Goode explained. "And the fact it is so round tells us the sun is still not very magnetically active," he added.
Scientists believe sunspots are magnetic structures that hold an important key to understanding space weather. Such weather originates in the sun, and it can have dire consequences on Earth's climate and environment. A bad storm can disrupt power grids and communication, destroy satellites and even expose airline pilots, crew and passengers to radiation.
A massive solar tsunami that shot from the sun on August 1 was just the latest example of such space weather, and the geomagnetic storms it cause across the Earth later that week just one of their effects.
The new image comes from the Big Bear Solar Observatory (BBSO), located in a clear mountain lake in California and operated by the New Jersey Institute of Technology. The mountain lake has sustained atmospheric stability, which is essential for measuring and understanding solar phenomena, NJIT notes.
According to Goode, the new telescope has a resolution covering about 50 miles on the sun's surface. It corrects for atmospheric distortion through by bending and warping, an action controlled through 97 adjustable motors called actuators. By the summer of 2011, in collaboration with the National Solar Observatory, BBSO will have upgraded the current adaptive optics system to one utilizing a 349-actuator deformable mirror.
The new optical system will allow the researchers to increase the distortion-free field of view to allow for better ways to study these larger and puzzling areas of the Sun.