Scientists are bashing iguanas' heads in Florida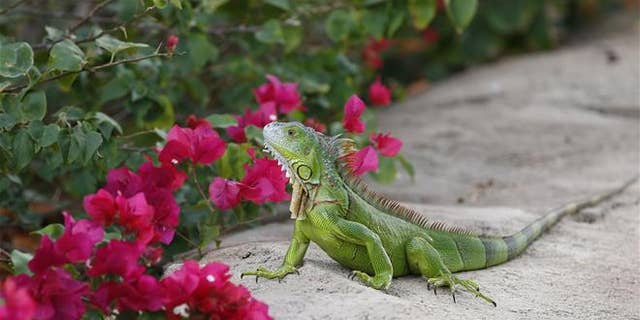 Scientists are sometimes tasked with saving animals from extinction. But in Florida, extinction, at least locally, is the goal. As part of a three-month project aimed at culling high numbers of invasive iguanas in the Sunshine State, researchers at the University of Florida are killing the animals with blunt force trauma—smashing the reptiles' heads against hard objects, from rocks to vehicles—or a device that sends a metal bolt into the brain, reports the South Florida Sun-Sentinel.
Research coordinator Jenny Ketterlin says both processes are more humane than decapitation without anesthesia, but others have doubts. One veterinarian says the animals should be sedated and euthanized while a resident who claims to have killed 100 iguanas with a pellet gun argues his method is less tortuous.
Still, researchers contracted by the Florida Fish and Wildlife Conservation Commission say destroying the brains of the reptiles while they sleep is the best option, and in keeping with anti-cruelty laws.
Though traps and euthanasia are also used, researchers primarily search for the animals at night, pulling sleeping iguanas directly from trees. Those killed are weighed and measured before being discarded at a landfill, Ketterlin says.
Some 300 iguanas, which first arrived in Florida as pets, have already met such a fate along a canal in Davie, per the Washington Post.
Researchers also plan to offer tips about how to remove iguanas from yards, where they "feed on native plants and wildlife and dig into areas that may cause erosion," says an FWC rep.
(It recently rained iguanas in Florida.)
This article originally appeared on Newser: Method of Killing Questioned in Florida Iguana Cull