Scientist Says Hundreds May Die as Smog Blankets Moscow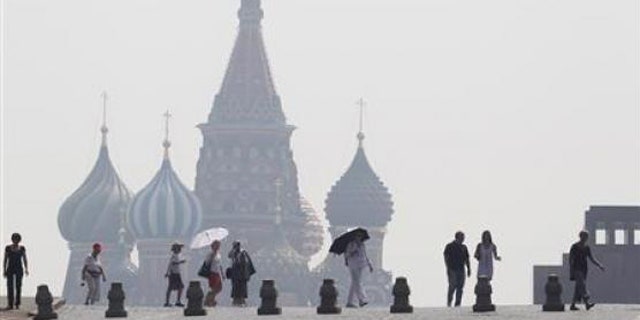 NEWYou can now listen to Fox News articles!
Moscow region chief Boris Gromov asked Prime Minister Vladimir Putin to allocate 25 billion roubles ($827 million) to fight the fires smoldering in the forests around Moscow.
Alexei Yablokov, an internationally renowned biologist who runs Russia's Green Party, said air pollution caused by the smog's high amount of carbon dioxide could kill hundreds more people than usual in the Moscow region.
"There will be at least 100 additional deaths per day this time round," Yablokov told Reuters, referring to the last such smog cloud in 2002 in which he calculated 600 people had died each week.
The Moscow government agency overseeing air pollution, Mosekonomonitoring, said the levels of carbon monoxide in the air on Tuesday shot up by 20-30 percent more than normal levels.
Russia's senior public health official suggested on Tuesday employers free their staff while the thick smog and record-breaking heat in the Russian capital surged.
"Employers, if there is a possibility, could allow people to not come to work," Gennady Onishchenko, head of Russia's health protection agency, told Interfax news agency.
Peat, used in the past to produce heat and electricity, smolders deep underground in winters and summers. Gromov said the only solution to the fires was to pour water over deposits.
"According to preliminary estimates, only in one district where fires are now most severe, over 4.5 billion roubles is needed. We have five such districts," Gromov told Putin during an emergency video conference.
Putin said he would ask the emergency and economy ministries to examine the request.
The emergencies ministry said that in the last 24 hours there had appeared 58 new fires in the Moscow region, 30 of them at peat deposits.