Russian Cargo Ship Delivers Vital Supplies to Space Station Crew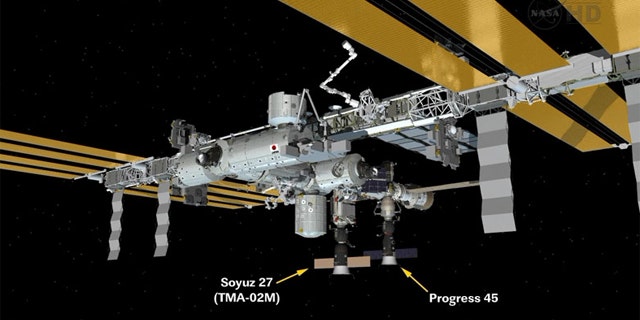 NEWYou can now listen to Fox News articles!
An unmanned Russian spacecraft delivered supplies to astronauts in orbit on Wednesday after the crash of the previous cargo flight left the three-man crew on the International Space Station with dwindling rations.
The loss of the Progress cargo flight on Aug. 24 grounded all launches of Russia's workhorse Soyuz rocket over safety concerns and forced staffing levels to be cut on the space station.
But the latest mission's three-day automated flight and docking clears the way for a resumption of manned space launches. It may also soothe concerns about depending solely on Russia for flights to the orbital laboratory.
"The entire journey was automated and flawless," NASA TV said just after Progress docked at 1141 GMT, taking 2.8 tonnes of food, fuel, oxygen and other supplies to the station, a $100-billion project funded by 16 nations which orbits about 240 miles (385 km) above Earth.
"We have been under some uncertainty," U.S. station commander Mike Fossum told NASA TV. "This is a huge step that helps clear the Soyuz rocket of any underlying problems."
After the crash, space officials said Fossum, Russian cosmonaut Sergei Volkov and Japan's Satoshi Furukawa had plenty of food and water on board to last until their return to Earth on the Kazakh steppe on Nov. 22.
At least one Soyuz capsule is always docked at the space station as an escape pod for emergencies.
A new crew is expected to fly to the space station on Nov. 14, arriving two days later, for a six-day handover with the outgoing crew.
Since the U.S. mothballed its shuttle programme this summer, Russia's Soyuz capsules are the only ships capable of flying crews to the station, a service that costs NASA about $350 million a year.
NASA is seeking $850 million this year to help U.S.-based private companies develop space taxis to end Russia's monopoly on station crew ferry flights by 2017.