Roman-era treasure retrieved thanks to two strokes of luck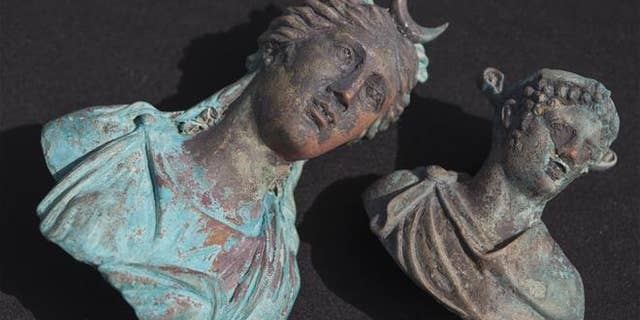 NEWYou can now listen to Fox News articles!
A Roman-era treasure trove has been retrieved thanks to two strokes of luck. The first happened 1,600 years ago when a merchant ship carrying the statues and coins to be recycled sank in the ancient port of Caesarea in Israel.
The second came last month when two divers discovered the wreck, reports Live Science. Ran Feinstein and Ofer Raanan found one statue, then another, but "it took us a couple of seconds to understand what was going on," Raanan tells the AP.
"It was amazing," he says, noting he dives in the area on alternating weekends and hadn't made any big finds previously. The Israel Antiquities Authority believes the ship got caught in a storm and smashed into rocks.
More From Newser:
Fishermen Slaughter One of the World's Largest Animals
Florida Divers Bring Up Signs of People 14K Years Ago
Since the discovery, archaeologists have recovered priceless bronze statues and thousands of coins, per the Sydney Morning Herald and AP. "A marine assemblage such as this has not been found in Israel in the past 30 years," says Jacob Sharvit of the IAA, noting most metal statues were melted down in antiquity.
"Because these statues were wrecked together with the ship, they sank in the water and were thus 'saved' from the recycling process." Protected by sand, they're in such good shape that they appear "as though they were cast yesterday," Sharvit adds.
There are also two bronze lamps, a statue of a whale, a faucet shaped like a boar, a figure of a moon goddess, and coins depicting emperors Constantine and Licinius.
While some objects date to the 1st and 2nd centuries, most are from the 4th century, says Sharvit. (Priceless gold coins were found in the area last year.)
This article originally appeared on Newser: Divers Find Roman-Era 'Trash' Saved by Shipwreck