'Rescued relics' help keep historic neighborhood afloat in Alabama
Pieces of buildings and furniture from the late 19th and early 20th centuries are getting a new life in Montgomery, Ala. Rescued Relics, has over 6,000 items for sale to support a nearby historic neighborhood.
The shop is a non-profit and relies on donated goods and volunteers to stay open. Carole King, the manager of Rescued Relics and curator of the Landmarks Foundation, which manages nearby Old Alabama Town in partnership with the city government, says this type of preservation is the ultimate recycling.
"We've got lots of items from structures that have been demolished or being demolished," King told Fox News. "That's always sad for us but we like to recycle the pieces, so that the life of the building actually goes on."
The shop is filled with pre-1960's items like old style bathtubs, bathroom sinks, light fixtures, windows, doors and more. There are even old sewing machines, handmade seesaws and gas wall heaters. King notes the doors are some of the shop's most popular items. Many customers convert them into tables or even headboards for beds.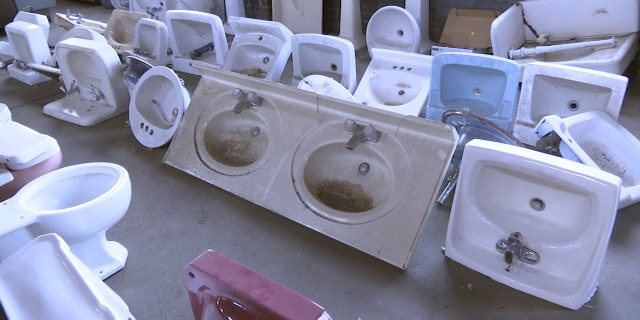 Some of the more unique items that were once part of historic buildings in the area are also hot commodities. Windows from the now demolished Montgomery Theater were on display in the shop. The building was one of the last antebellum theaters standing in the country until it collapsed in the summer of 2014. The theater opened back in October of 1860, according to the Landmarks Foundation's website.
All proceeds from the sale of the items in the shop go towards supporting nearby historic Old Alabama Town. The Landmarks Foundation has maintained the buildings in the town for nearly 50 years in partnership with the city of Montgomery. Volunteers, ticket sales and commercial renters also support the cause.
"We have 50 historic structures," King said. "About half of them are restored and leased as commercial income producing properties that help us maintain the area and then about 25 are house museums."
Many of the homes include furniture and artifacts from generations ago offering a glimpse into what life was like in the 19th and early 20th century. Some of the items from the historic buildings in the neighborhood often go on sale after a renovation.
King adds many people have been inspired by home makeover shows on cable TV and feel the need to have a modern home. She also says by adding a touch of grandma's house, any home can have a piece of historic flare.
"They're seeing that they can produce things too [that] might even have a [touch of] nostalgia," King said. "It might even remind them of their grandmother's or their great-grandmother. They're able to create something with a historic touch in their new modern easy to live-in house.