Rare Marilyn Monroe image up for auction in the UK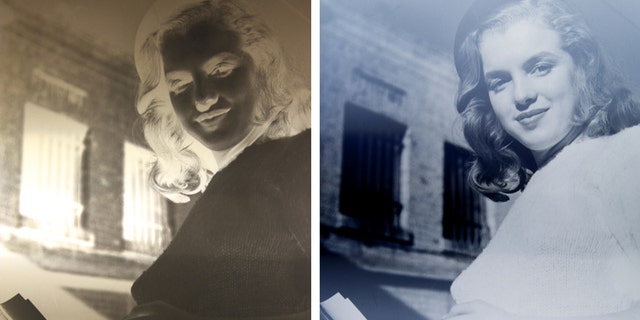 A rare negative from Marilyn Monroe's first modeling portfolio is up for auction in the U.K. this weekend.
The photo was taken on March 6, 1946 as part of some informal test shots that preceded a formal shoot, Henry Aldridge and Son Auctioneer Andrew Aldridge told Fox News.
"This image is a true genesis as it is one of the first professional images ever taken of Marilyn," he explained, via email.
PRINCESS DIANA LETTERS SOLD AT UK AUCTION
Norma Jeane Baker, who later became a Hollywood icon as Marilyn Monroe, was an aspiring 19-year-old model when the photograph was taken on a small street in West Hollywood. Photographer Joseph Jasgur took the shot, which formed part of a modeling portfolio that was presented to Ben Lyon, the casting director at 20th Century Fox.
"This photo offers a unique glimpse of the young girl who was to become the global phenomena that was Marilyn Monroe," Aldridge explained, via email. "Photos of this type come to market very occasionally, however the true value in this image lies in the fact that it is sold with the copyright to reproduce and distribute the image as the winning bidder wishes."
The negative, which will be auctioned on Saturday, has a pre-sale estimate of between $2,517 and $3,775.
TITANIC TREASURES SOLD AT UK AUCTION
Last year the dress Monroe wore when she famously sang "Happy Birthday" to President John F. Kennedy sold for $4.8 million at Los Angeles auction.
Follow James Rogers on Twitter @jamesjrogers