Rare Charles Darwin letter will be sold at auction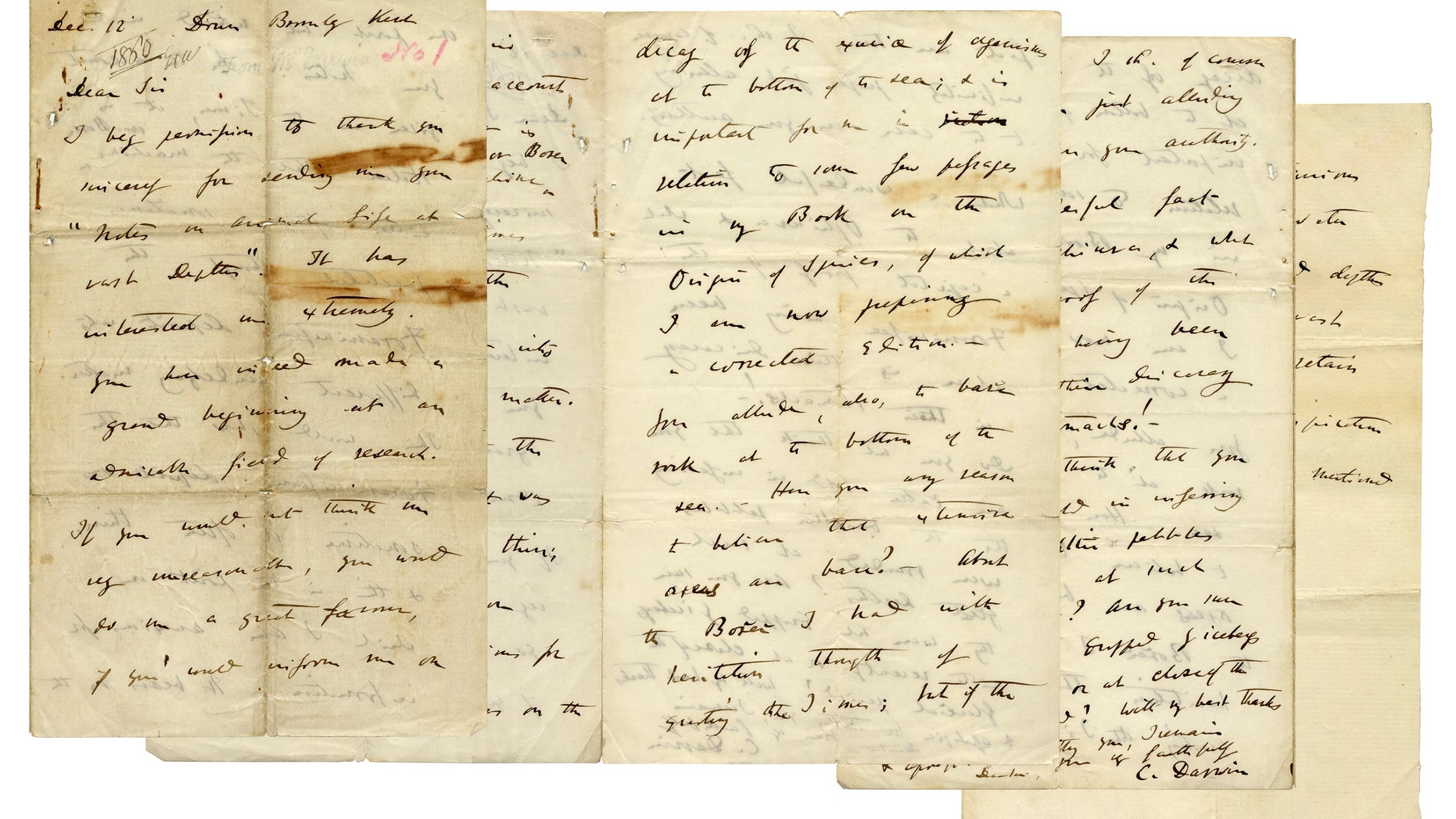 A rare handwritten letter by famed naturalist Charles Darwin to a British marine biologist will be auctioned off Thursday, in which he details plans to release a corrected version of the book "The Origin of Species."
In the letter, Darwin also expresses excitement about the work of the marine biologist George Charles Wallich on brittle starfish but also wonders about his findings on basaltic pebbles. He also thanks Wallich for sending his book "Notes on the Presence of Animal at Vast Depth in the Sea" and asks about Wallich's observations regarding shell deposits, which are important "for me in relation to some few passages in my Book."
Related: Auction offers fascinating glimpse into the history of science and technology

"This signed letter concerning deep ocean discoveries shows Darwin's interest in biological life and geology at the ocean bottom and his meticulous efforts at clarifying the findings of Wallich," Nate Sanders, owner of Nate D. Sanders Auctions, said in a statement. "Darwin's attention to details demonstrates why he was such a superb naturalist."
It is the latest of several Darwin letters to be auctioned off. In September, a Darwin letter in which he stated he did not believe in God was sold for $197,000 at Bonhams New York. That was three times the previous record of $59,142 for a four-page letter that Darwin had penned to his niece.
A month later, Bonhams sold a letter from Darwin on the sex life of barnacles for $25,000.
This letter was written on Dec. 12, 1860, about a year after the publication of "The Origin of Species." The book is considered the foundation of evolutionary biology and introduced the idea that species evolved over generations through the process of natural selection.
Related: Darwin's letter about not believing Bible to be auctioned off
In the letter, Darwin asked Wallich about observations including "the foraminifer [protozoa with shells] deposit was sometimes or often thin; and this is the point on which I am anxious for information – It bears on the decay of the exuviae [exoskeleton remains] of organisms at the bottom of the sea."
But he wasn't only complimentary, proclaiming Wallich was "rather bold in inferring that the basaltic pebbles were rounded at such great depths? Are you sure they were not dropped by icebergs either recently or at the end of the glacial period?"
Bidding on the letter will start at $69,500 and will be done online.