Rare 1,500-year-old mosaic depicts unusual scene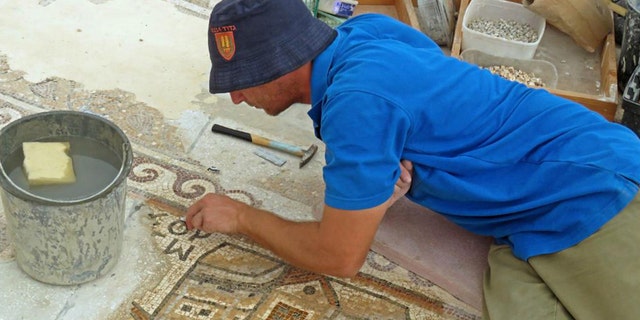 NEWYou can now listen to Fox News articles!
On Oct. 1 a festival in Israel will feature an extra special guest: a 1,500-year-old mosaic.
The mosaic, which depicts a map with streets and buildings, was once the floor of a church dating back to the Byzantine period. It was first uncovered about two years ago and was recently preserved and returned to its final location in the Qiryat Gat Industrial Park. The Israel Antiquities Authority said Tuesday that the mosaic will be revealed to the public for the first time at the "Factories from Within" festival, which takes place during the Sukkot holiday.
Related: King Tut's tomb may contain two hidden chambers, experts say
Archaeologists Sa'ar Ganor and Rina Avner of the Israel Antiquities authority described the mosaic as unusual. "The appearance of buildings on mosaic floors is a rare phenomenon in Israel. The buildings are arranged along a main colonnaded street of a city, in a sort of ancient map," they explained, in a statement.
A Greek inscription preserved alongside one of the buildings exposed in the mosaic indicates that the place which is depicted is the settlement of Chortaso in Egypt. "The appearance of this Egyptian city on the floor of the public building in Qiryat Gat might allude to the origin of the church's congregation," added the archaeologists.
Related: Under pipes at Westminster, a medieval find
Ganor also noted that the mosaic's artist used tiles of 17 different colors while preparing the mosaic. "The investment in the raw materials and their quality are the best ever discovered in Israel," he said.