Psychic Octopus Shocks Germany with Semi-Final Prediction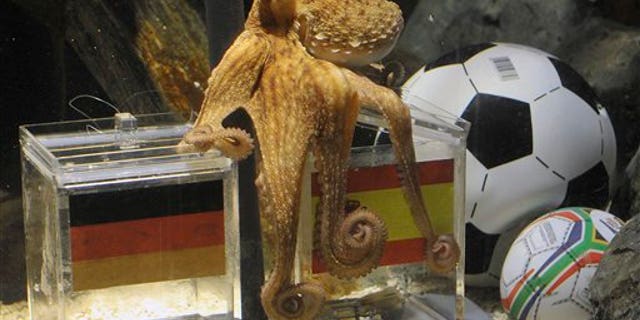 NEWYou can now listen to Fox News articles!
Paul the psychic octopus broke hearts in Germany Tuesday when he tipped Spain as the winner of Wednesday's World Cup semi-final, predicting an unwelcome exit for his side.
As the eight-legged oracle has a 100 percent prediction success rate for Germany's World Cup games so far, things do not look good for Joachim Low's team.
Paul's technique uses two plastic boxes, one with a German flag and one with that of the team's opponent, which are lowered into his tank. Each contains a tasty morsel of food, and the box that Paul opens first is judged to be his predicted winner.
His latest prophecy, which was shown live on national television, drew gasps from the crowd assembled at the Oberhausen Sea Life center in western Germany.
Paul tantalized his audience by lingering over Germany's box, but took just five minutes to plop down on Spain.
Sea Life's Mark Oakley told NewsCore that the speed with which the sea-dwelling seer took to prophesize the result means he is "pretty sure" Spain will emerge victorious Wednesday.
This was not the first time that Paul's predictions caused shock waves. The English-born octopus correctly foretold Germany's 4-1 humiliating defeat of England -- Oakley said he took no time at all to make his "uncannily accurate" choice.
Earlier Tuesday, fans of the seawater seer were aghast when it was revealed that a fake prediction was doing the rounds on in the internet.
In an eerie coincidence, a picture of Paul picking Serbia to win over Germany was doctored to show him choosing Spain as the winner of Wednesday's semi-final.
Doubts were raised when there was no video available of the soccer soothsayer's prediction -- and the crest on the Spanish flag was missing.