President Donald Trump is definitely not a fan of sharks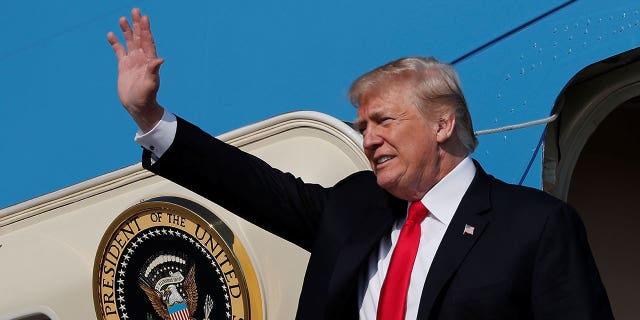 President Donald Trump may be the leader of the free world and the most powerful man on the planet, but there's one thing that "terrifies" him – sharks.
Tweets Trump made prior to becoming president have resurfaced, likely due to this being "Shark Week" on Discovery. They highlight Trump's apparent distaste for the apex predator of the oceans.
On July 4, 2013, Trump tweeted that he was not a fan of sharks, though it's unclear what provoked him to do so.
SHARKS IN THE WATER: THIS NEW INTERACTIVE MAP WILL SHOW YOU WHERE THEY ARE
"Sorry folks, I'm just not a fan of sharks - and don't worry, they will be around long after we are gone," Trump tweeted.
He followed that up with a second tweet two minutes later, further expressing his distaste for the carnivorous fish.
"Sharks are last on my list - other than perhaps the losers and haters of the World!" Trump tweeted.
SHARK SHOCKER: 20-FOOT GREAT WHITE 'DEEP BLUE' CAUGHT ON CAMERA
News of Trump's disdain for sharks resurfaced earlier this year, after porn star Stormy Daniels alleged that Trump asked her to watch a shark documentary with him in his private bungalow at the Beverly Hills Hotel in July 2007.