Powerful El Niño could mean fewer Atlantic hurricanes, experts say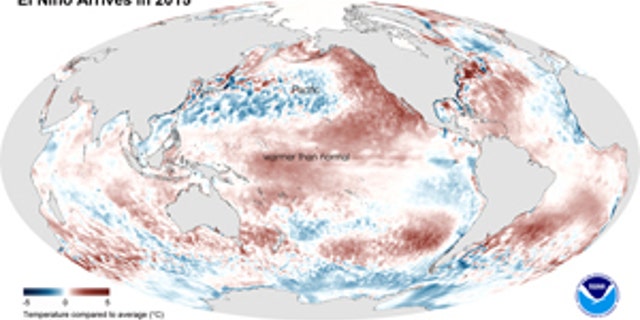 NEWYou can now listen to Fox News articles!
Scientists are carefully monitoring the development of El Niño, noting that the Pacific Ocean phenomenon could keep Atlantic hurricanes in check this year.
"The big news this year is the continued development of a powerful El Niño event, which is well known to suppress Atlantic hurricanes," explained Kerry Emanuel, professor of atmospheric science at MIT, in an email to FoxNews.com. "Thus, we expect an unusually inactive season this year."
"We are revving up a very strong El Niño and that should lead to less Atlantic hurricanes this year," added Cliff Mass, professor of atmospheric sciences at the University of Washington, in an email to FoxNews.com.
El Niño brings warmer-than-average sea surface temperatures to the central Pacific Ocean near the equator, which in turn alter wind patterns over the Atlantic. The National Oceanic and Atmospheric Administration issued an El Niño advisory in March, noting the arrival of the ocean-atmospheric phenomenon.
In years when El Niño occurs, wind patterns are altered with vertical wind shear, or gradient, increasing over the Atlantic and Caribbean. "The increased wind shear helps to prevent tropical disturbances from developing into hurricanes," according to an explainer on the University of Illinois at Urbana-Champaign website.
On Tuesday, the Australian Bureau of Meteorology noted that El Niño is now well established and continues to strengthen, predicting that the ocean phenomenon is likely to persist into early 2016.
In addition to fewer Atlantic hurricanes, El Niño changes weather patterns worldwide, and is associated with flooding in some places, droughts elsewhere, and a generally warmer globe. El Niños are usually so important that economists track them because of how they affect commodities.
Related: Phenomenal temperatures slam Middle East, driven by extreme heat and humidity
MIT's Emanuel warns that powerful Atlantic hurricanes can still occur in El Niño years. "We must remember that Hurricane Andrew of 1992, which occurred in a very quiet El Niño year, was highly destructive," he said.
However, the professor does not expect the recent heat wave that hit the Middle East to influence the Atlantic hurricane season. "To the best of my knowledge, there is no known connection between Middle Eastern drought and Atlantic hurricanes," he said. "There does seem to be a connection with drought in the Sahel region of Africa: when it is unusually dry there are fewer Atlantic storms."
David Robinson, the New Jersey state climatologist at Rutgers University, told FoxNews.com that the Middle East heat wave is one of a number of notable weather events occurring at the moment. "Right now the biggest anomaly out there is with the El Niño event in the tropical Pacific," he explained in an email. "However, there is also the warm pool of water persisting in the NW Pacific, a large area of low pressure that has been soaking Southeast Asia and the unusually strong and persistent dome of high pressure over the Middle East."
So-called "dust veils" coming off the African coast across the Atlantic could be influenced by the Middle East heat dome, according to Robinson, further reducing the hurricane risk. "When dust veils like this occur, they tend to put a lid on atmospheric convection over areas favorable for tropical storm development," he said. "Add to this the impact of the El Niño, which favors stronger-than-average winds across the Atlantic basin -- which tend to shear apart any rising motion -- and you have a recipe for a below-average hurricane season."
The Associated Press contributed to this report.
Follow James Rogers on Twitter @jamesjrogers