Polar Bear Lovers Protest Potential Display of Knut's Body at Museum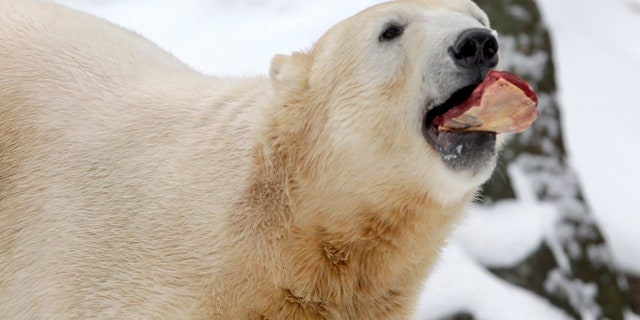 NEWYou can now listen to Fox News articles!
Fans of the polar bear Knut, who captured the hearts around the world as it grew up in captivity at the Berlin Zoo, are planning to protest a proposal to publicly display the recently deceased bear's body.
Activists are busy collecting signatures to argue that the bear, who died suddenly March 19 at just 4 years old, should not be stuffed for display at a Berlin museum, the UK Telegraph reports. Such a display is one option being discussed, but no decision has yet been made about Knut's remains.
A condolence book on the Berlin Zoo's website is filled with angry messages, and a letter to the zoo director says, "Nobody wants to look at a stiff, dead Knut," the paper reports.
Knut unexpectedly died in front of visitors at the zoo, turning around several times and then falling into the water in his enclosure. A team of veterinarians determined brain problems were probably the cause of the death. Polar bears usually live 15 to 20 years in the wild and even longer in captivity.
Knut was rejected by his mother at birth and was the first polar bear to survive past infancy at the Berlin Zoo in more than 30 years. He rose to celebrity status as an irresistibly cute, fluffy cub. He attracted attention when his main caregiver, Thomas Doerflein, camped out at the zoo to give the button-eyed cub his bottle every two hours.
The bear went on to appear on magazine covers, in a film and on mountains of merchandise..
Protesters say the zoo wants to milk the bear for more money. They argue he should be cremated.
But Heiner Kloes, who is in charge of bears at the Berlin Zoo, says his plans will not change.
"When we have decided something, we are not going to let ourselves be swayed either by thousands of people, tens of thousands of people or hundreds of thousands," he told The Telegraph.
The Associated Press contributed to this report.