Photo of orca calf in Northwest is great news for endangered population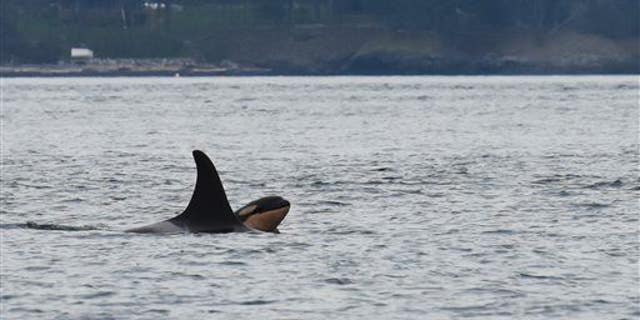 Scientists are celebrating after a days-old orca calf was spotted off the west coast of Washington state's San Juan Island on Saturday. The calf was born into one of three pods of Southern Resident orca whales, known as "J Pod," which happens to have the best record when it comes to keeping calves alive, reports the Seattle Times.
Dubbed J53, the calf was seen frolicking in Haro Strait with Princess Angeline, or J17, a 38-year-old whale who is believed to be the calf's mother and is also a grandmother, reports KOMO News.
Why all the fuss? Well, the baby whale is the sixth born since December and is part of a baby boom that's raising hopes that the endangered population is rebounding.
Before December, scientists hadn't recorded a single successful birth in three years. "It's great news. We've got a bit of a Brady Bunch out there right now," says Michael Harris of the Pacific Whale Watch Association, who adds that another three to six whales may be pregnant.
Harris says researchers don't yet know the sex of the calf but are hoping for a girl. Only one female has been born since December and females typically live into their 90s, while males live to about 60.
Though the orca population dipped to 77 last year, Harris says it now sits at 82 after the death of a 50-year-old female orca a few weeks ago.
He credits the healthy number of chinook salmon—another endangered species that makes up 90% of the orcas' diets—with the baby boom, but says "a very difficult run" predicted for next year could bring problems.
(Long Island Sound also is seeing a whale milestone.)
This article originally appeared on Newser: This Photo Just Made Scientists' Entire Week
More From Newser