Pennsylvania officials remove black bear from homeowner's tree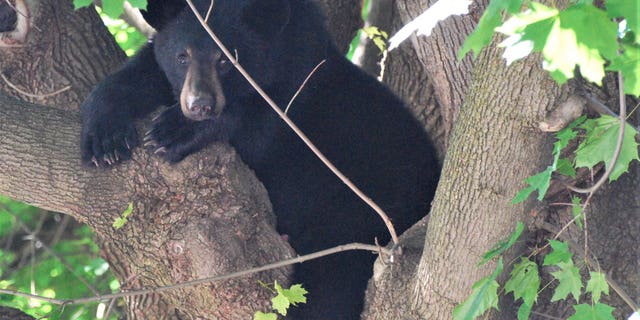 NEWYou can now listen to Fox News articles!
Police on Friday removed a young black bear from a tree outside a home in Hanover, Pennsylvania.
Hanover Fire and Rescue officials as well as the York County Game Warden assisted the borough police department in removing the bear, which weighed roughly 100 pounds, according to Fox 43.
The police department said on Facebook that the bear roamed around the Hanover neighborhood before climbing and staying in the tree.
Once Game Warden Timothy Wenrich with the Pennsylvania Game Commission arrived at the scene, "the bear was sedated and safely lowered from the tree once the sedative took effect," the police department wrote.
The bear was later released at "safe location," the police department said, though did not specify where.
The department reminded residents of the "unpredictability of all wild animals," noting that "it is normal at this time of year for juvenile bears to be forced away from their mother and left to find their own territory."