North Carolina beachgoer captures drone footage of Civil War-era shipwreck
While vacationing at Holden Beach in North Carolina last week, 42-year-old Brent Garlington spotted what is thought to be a wrecked Civil War-era steamer.
Garlington, of Fayetteville, flew a drone over the Lockwood Folly Inlet, which is located between Holden Beach and Oak Island. The tide was low because of the full moon, Garlington told Fox News on Tuesday. This prompted him to take a walk on the beach sandbar and ultimately capture the footage using a drone.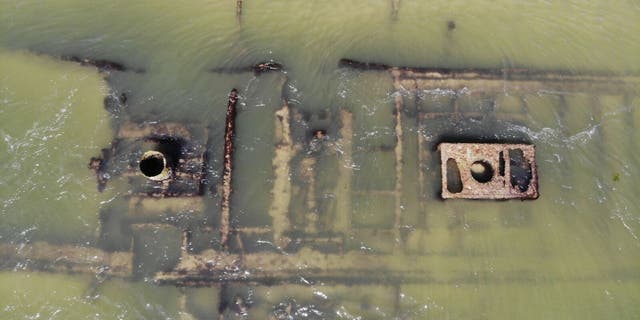 While Garlington didn't discover the vessel, he believes "this is the first time it has been seen from this perspective."
"You really can't see it that clearly unless it's low tide," he added.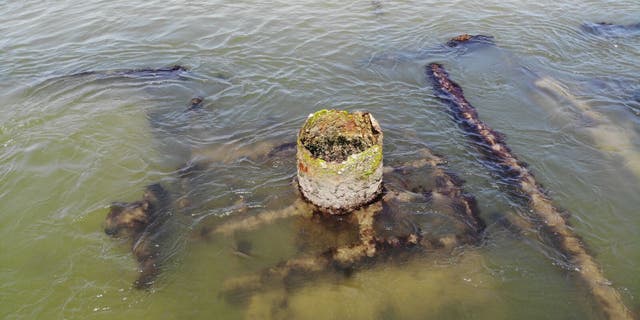 Garlington first heard about this particular steamer from his brother-in-law, who's a pilot and a "big history buff." His brother-in-law spotted the steamer while flying a helicopter over the same area last year. Others have noticed it while fishing or riding on a boat, he said.
"When he told me about it, I thought it was pretty neat," Garlington said. Since then, he's wanted to see the wreckage for himself.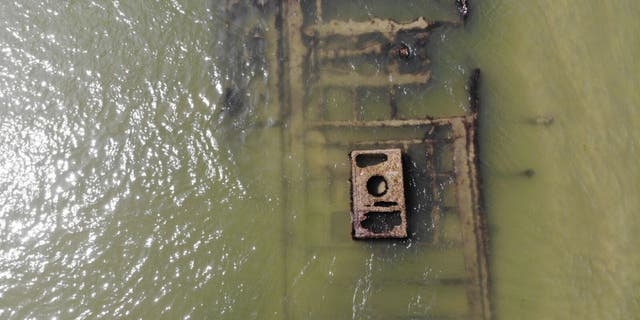 At first, Garlington wasn't planning on sharing his footage -- but then a fellow beachgoer suggested posting a clip to The Friends of Holden Beach Facebook group. Within 30 minutes, his "phone was blowing up."
"Most people are amazed; they had no idea that it was there," Garlington said of the reactions to the video. Others commented that they have seen the wreckage, but "never from that angle," he said.
A representative from the North Carolina Department of Natural and Cultural Resources (DNCR) later identified the steamer in the footage as BENDIGO, "a side-wheel, iron hulled blockade runner lost in Lockwood's Folly Inlet," Michele Walker, the department's public information officer, told Fox News in an email.
She said that two other vessels -- the runner ELIZABETH and the Union warship IRON AGE -- are also lost in the inlet. All three wrecks have been "well-known since the 1960s" and are "occasionally uncover[ed] due to active depositional sediment transport in the inlet," she added.
Separately, in 2016, researchers with the North Carolina DNCR found a submerged Civil War-era steamer which is "believed to possibly be the remains of one of three blockade runners used to penetrate the wall of Union naval vessels blocking the port of Wilmington during the Civil War," the organization said at the time.