New York dodges blizzard bullet, but weather models under scrutiny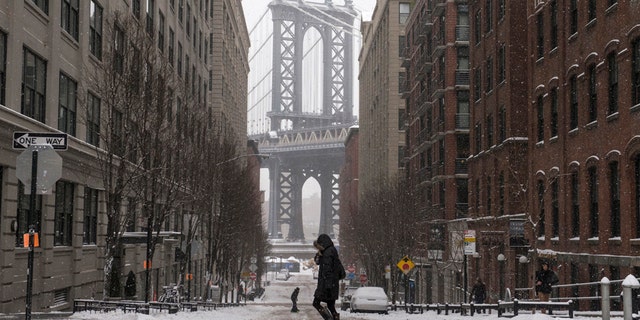 NEWYou can now listen to Fox News articles!
The record snow storm that was expected to pummel the Northeast on Tuesday failed to live up to its epic billing in the New York/New Jersey region — though it did hammer much of New England — putting the weather models used to predict the blizzard into question.
"There were errors in the forecast and it was significant enough that it impacted the major metropolitan area in the country -- therefore, there's going to be a lot of scrutiny," Professor David Robinson, the New Jersey state climatologist at Rutgers University, told FoxNews.com. "This is an imperfect science that is being done better than ever, but, occasionally, things aren't going to work as accurately as forecast."
The blizzard had originally been predicted to bring between 2 and 3 feet of snow to an area stretching from northern New Jersey to southern Maine, along with hurricane-force winds. The storm, which tracked about 90 miles further east than originally anticipated, largely spared New York, but pounded eastern Long Island and New England.
Bruce Sullivan of the National Weather Service told the Associated Press that Boston and Providence, Rhode Island, could get 2 feet of snow, New York 10 inches to 20 inches, and Philadelphia and central New Jersey about 6 inches.
Robinson explained that meteorolgists at the National Weather Service draw on a number of weather models, including the European Centre for Medium-range Weather Forecasts (ECMWF), and the U.S. Global Forecast System (GFS). A North American Model (NAM) is also said to be in use.
"This is, if you will, an ensemble modelling activity," he told FoxNews.com, noting that different models have strengths and weaknesses. "Some do better [in] earlier [forecasting] – for example, the Euro model was the one that picked up Sandy earlier – it has been given kind of all-star status."
The climatologist noted that while ECMWF forecast larger snowfall for New York City, GFS predicted that the worst of the storm would strike elsewhere. "The GFS was suggesting that the heavier snowfalls would miss New York City and hit further east," he said. "People dismiss the U.S. [GFS] model because maybe it hasn't picked up things as early as the Euro model, but, later in the game, it does very well."
Cliff Mass, professor of atmospheric sciences at the University of Washington said there was a great deal of uncertainty in the blizzard forecast. "The European Center and the NAM model were going for a lot more snow – the GFS was taking the low pressure center further offshore - that resulted in less snow over New York and New Jersey."
Mass also noted that the swaths of forecast data used by meteorologists predicted significantly different snowfall in the New York metropolitan area. "The failure is that that uncertainty wasn't communicated well," he said.
Meteorologists have acknowledged that forecasts were way off target. "My deepest apologies to many key decision makers and so many members of the general public," tweeted National Weather Service Meteorologist Gary Szatkowski early on Tuesday. "You made a lot of tough decisions expecting us to get it right, and we didn't."
On Monday New York Mayor Bill de Blasio said that the storm would likely be one of the largest blizzards in the city's history. The city, he added, had 250,000 tons of salt on hand and 40 percent more ambulances than usual ready to roll. All non-emergency vehicles were banned from city streets from 11 p.m. on Monday evening until 7:30 a.m. on Tuesday.
However, Rutgers' Robinson believes that appropriate action was taken given the data available.
"I don't think that it was an epic failure in the forecast community, and I think that the decisions made by governors and mayors were prudent based on the information provided," added Rutgers' Robinson.
The National Weather Service has not yet responded to a request for comment on this story.
The Associated Press contributed to this report.
Follow James Rogers on Twitter @jamesjrogers