NASA's Orion Moon Craft Unveiled at New Spaceflight Facility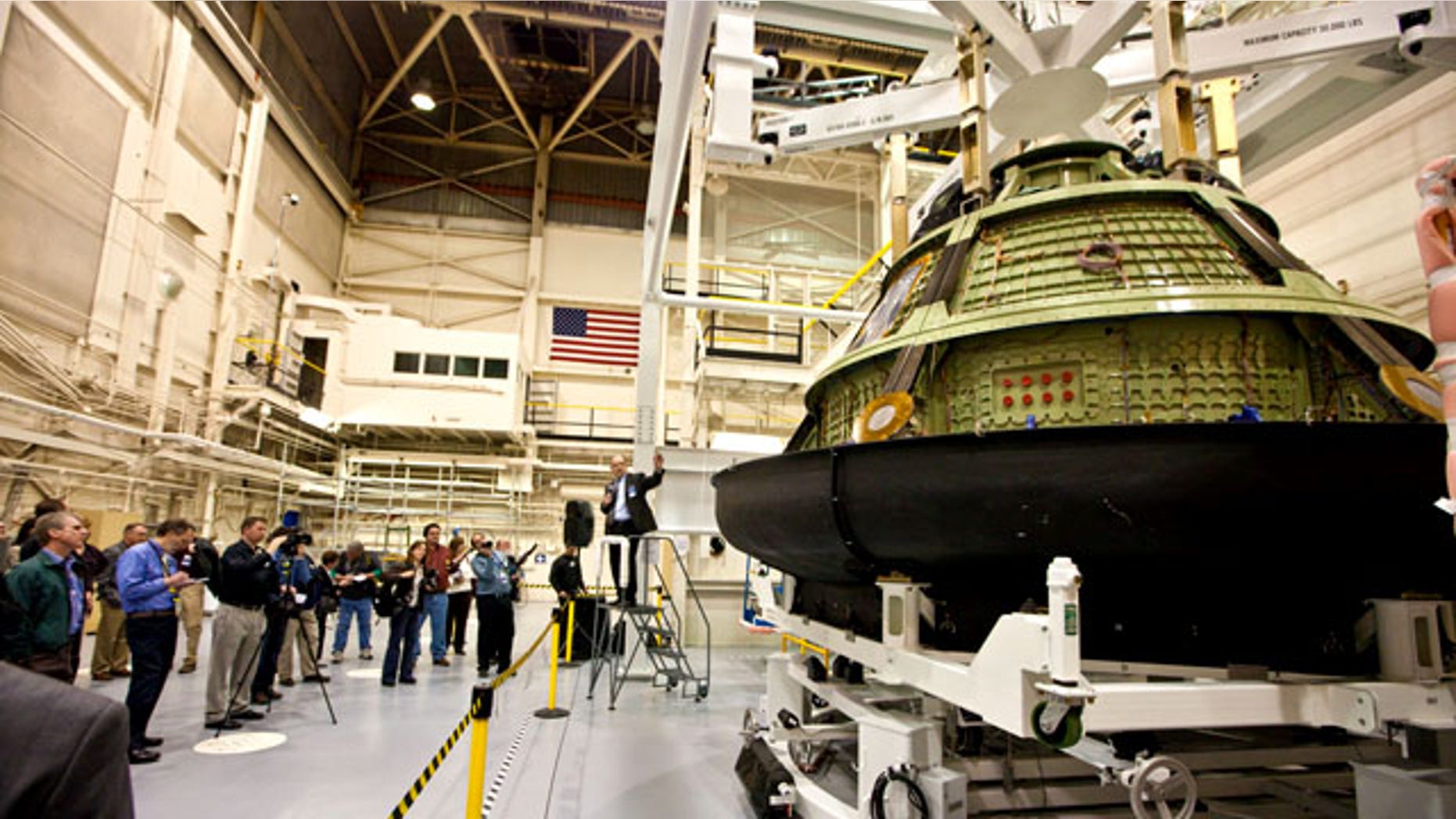 Is this the future of manned missions into deep space?
Lockheed Martin on Tuesday unveiled the first Orion spacecraft, a part of what NASA had planned as the sprawling and ambitious Constellation project that would offer a replacement for the space shuttle -- and a means to ferry humans into outer space and back to the moon.
Orion and the companion Ares heavy-lift rocket were part of Constellation, a program cancelled under President Barack Obama's 2011 budget proposal. Instead Obama urged NASA to work toward sending humans to an asteroid and then on to Mars. Reports indicated NASA intended Orion to be merely a crew-escape vehicle.
But NASA and Lockheed Martin had other plans for the project, and pushed ahead on the Orion space capsule despite their ambiguous status.
Tuesday Lockheed Martin showed off the fruits of its labor -- and it's far more ambitious than a crew-rescue ship.
"Our nation's next bold step in exploration could begin by 2016," said John Karas, vice president and general manager for Lockheed Martin's Human Space Flight programs. "Orion was designed from inception to fly multiple, deep-space missions. The spacecraft is an incredibly robust, technically advanced vehicle capable of safely transporting humans to asteroids, Lagrange Points and other deep space destinations that will put us on an affordable and sustainable path to Mars."
A spokeswoman for Lockheed Martin pointed FoxNews.com to NASA's latest authorization act, from Oct. 11, 2010, which underscores the wide role the Orion craft could play.
"Orion is going to evolve from what it was under the previous Constellation program into what it needs to become as part of the multipurpose crew vehicle," NASA spokesman Bob Jacobs told the Associated Press.
Orion includes a module for crew and cargo, a service module for propulsion, electrical power and other requirements, and a launch-abort system to carry the capsule to safety if the booster rocket fails. NASA successfully tested the launch-abort system two weeks ago at White Sands Missile Range, N.M.
To accompany the Orion craft, the company took the wrappings off a spacious state-of-the-art Space Operations Simulation Center (SOSC), located at Lockheed Martin's Waterton Facility near Denver, Colo. The company said it built the $35 million, 41,000-square-foot test facility at company expense.
The spacecraft will undergo rigorous testing in Denver to validate Orion's ability to endure the harsh environments of deep space, Lockheed Martin said. The Orion crew exploration vehicle is on schedule to conduct its first orbital flight test as early as 2013 and provide initial operational flights by 2016 as required by the NASA Authorization Act of 2010.
Bray said the test results will be used in the engineering of the first Orion capsule to fly in space. Work on that capsule is expected to start in August.
Many of Orion's components can be re-used in subsequent flights, including some electronic systems, Bray said. The spaceship itself won't be reused because of the tremendous forces it endures on liftoff and re-entry, he said.
The first orbital space flight of an Orion capsule is expected in 2013, said John Karas, vice president and general manager for human space flight for Lockheed Martin Space Systems Co.
Rep. Ed Perlmutter and Sen. Michael Bennet, Colorado Democrats who pressed Obama to salvage the Orion project, said they were confident the spacecraft will fly, but neither discussed specifics in brief remarks at the dedication ceremony for the test building.
"The White House and the Congress both recognize the importance of this program," Perlmutter said.
The Associated Press contributed to this report.