NASA shows incredible image of Hurricane Florence in 3D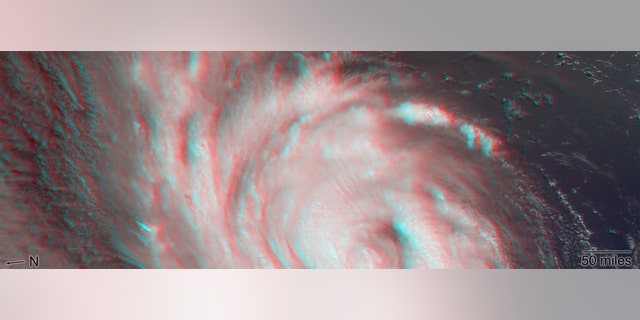 NEWYou can now listen to Fox News articles!
Thanks to its Multi-angle Imaging SpectroRadiometer (MISR), NASA has shown an incredible 3D view of Hurricane Florence as it approached the eastern part of the U.S.

The MISR passed over the hurricane on Thursday, NASA said. It has nine cameras that look at the Earth at all times, from different angles. It usually takes about seven minutes for all the cameras to look at the same location, making the above image special. In order to see the 3D effects, 3D glasses will be needed.

"At the time the imagery was acquired, Florence was a large Category 2 hurricane with maximum sustained winds of 105 mph (169 kph)," NASA wrote on its website. "The center of the storm was about 145 miles (230 kilometers) southeast of Wilmington, North Carolina. Coastal areas had already begun to experience tropical-storm-force winds, and millions of people across multiple states were under evacuation orders."
NASA POSTS INCREDIBLE VIDEO OF HURRICANE FLORENCE FROM SPACE

Since then, Florence has been downgraded to a Category 1 storm, and made landfall near Wrightsville Beach, North Carolina, early Friday morning. It thrashed the already battered coast with hurricane-force winds and heavy rains that officials warned could trigger catastrophic floods further inland.
The National Hurricane Center said Florence's eyewall made landfall at about 7:15 a.m. a few miles east of Wilmington, with estimated maximum winds of 90 mph that pushed life-threatening storm surges miles inland, and, combined with a persistent pelting rain, severely damaged buildings.
A few hours after landfall, forecasters said Florence was slowly wobbling southwestward just off the coast of southern North Carolina.
HURRICANE FLORENCE'S PATH: TRACK THE STORM HERE
At 11 a.m., Florence was centered about 20 miles southwest of Wilmington, and about 55 miles east-northeast of Myrtle Beach, S.C. It was crawling west-southwest at 3 mph, lifting huge amounts of ocean moisture and dumping it far from the coast.
Fox News' Lucia Suarez Sang contributed to this report. Follow Chris Ciaccia on Twitter @Chris_Ciaccia