NASA Mars rover tour: Batmobile-like concept vehicle aims to inspire next-gen designs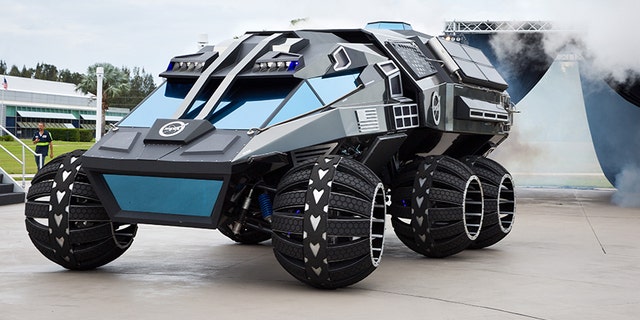 It looks like a Batmobile – and now it's headed to a city near you.
A NASA Mars rover concept vehicle akin to something out of the caped crusader's universe is embarking on an educational tour this month aimed to inspire the public about potential manned-missions on the Red Planet.
"Experts believe the first person to step foot on Mars is already born," Rebecca Shireman, assistant manager of public relations for the Kennedy Space Center Visitor Complex, told Fox News.
The 5,000-pound solar and battery-powered vehicle will be on display in Atlanta, Washington, D.C., Jersey City and New York City. It is made of aluminum ad carbon-fiber and can split in two pieces, with one half being a laboratory and the other being used for scouting purposes.
It was designed by SeaDek and Parker Brothers Concepts with the help of NASA Subject Matter experts and a former astronaut. The vision was to create a vehicle that would be "as realistic as possible given the challenges of traveling on Mars," Shireman said.
One feature on the vehicle, Shireman said, are wheels designed to let the sands of Mars slip through.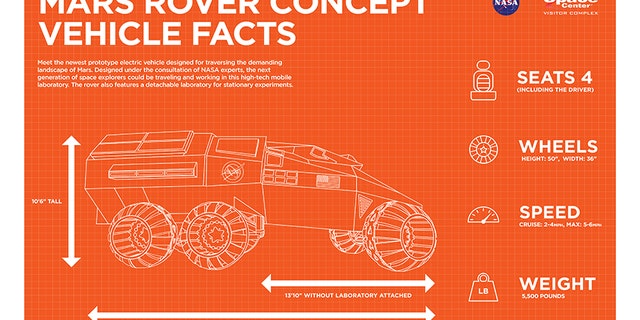 The rover will not actually touch down on Mars and parts of it were built only for appearance, but NASA hopes some of its characteristics could be incorporated into future designs.
"We would love for [the public] to be inspired to be part of the next generation of space explorers, whether that is as an astronaut or engineer or any other type of person that would be working on or with this journey to Mars," Shireman told Fox News.
The rover will return to the Kennedy Space Center Visitor Complex in Florida after the tour to be featured in a new exhibit opening this fall.
NASA said their next robotic rover will land on Mars in 2020 to search for signs of past life and collect geological samples.
The space agency's Curiosity rover, which landed on Mars in 2012, is currently beaming pictures of the Red Planet back to Earth with the help of artificial intelligence that helps it pick its targets.