NASA coverage of Venus interrupted due to Australian roadworker's error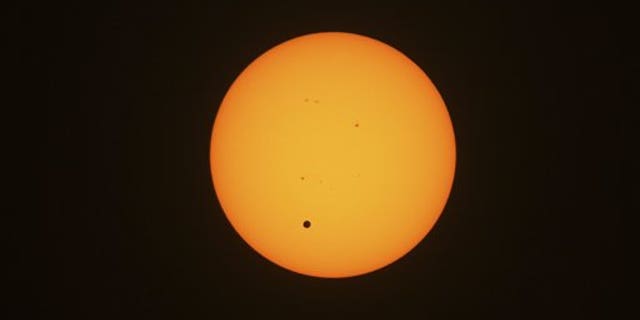 NEWYou can now listen to Fox News articles!
MATARANKA, Australia – Live NASA coverage of Venus' rare transit of the sun has been interrupted -- by an Australian roadworker.
The bungling worker severed a fiber-optic cable, preventing scientists from streaming live footage to the NASA website from one of the world's best vantage points, in the Northern Territory.
The wire was damaged during roadworks about 10 miles south of Mataranka on Tuesday afternoon, cutting off internet and telephone services across the region.
A spokeswoman for telecommunications company Telstra told The Northern Territory News the cable would not be repaired until around 3:00pm local time Wednesday. Venus is expected to finish its transit at 2:03pm local time.
The next time the planet will be visible passing between earth and the sun with be in 2117.
The Aussie webcast was to have taken place from a school in Alice Springs -- one of only two locations outside the United States that was contributing to the live NASA broadcast of the event. Other feeds were believed to have made up for the Aussie disaster.
"They're transmitting to NASA because they are in the best position in the world to see it," Telstra spokeswoman Jane DeGault said of the interrupted Northern Territory webcast.
"They are understandably upset. Let's hope these services will be restored and some transmission can be sent to NASA."