NASA astronaut's 'space map' sparks search for treasure-laden Bahamas shipwrecks
A remarkable map created in space over 50 years ago could lead a modern-day explorer to the sites of treasure-laden shipwrecks in the Bahamas.
The space treasure map was put together in the 1960s by NASA astronaut Gordon Cooper to identify more than 100 "anomalies" in the Caribbean that may be shipwrecks. Cooper, who died from Parkinson's disease in 2004, created the map following his Mercury 9 Faith 7 flight. At the time, he was said to have been on a mission to identify Cold War nuclear threats.
Before his death, Cooper gave the maps to his friend Darrell Miklos, a historical shipwreck discovery specialist. Miklos has been using the maps to seek out a slew of historic wrecks.
EXPERTS DISCOVER 'CHRISTOPHER COLUMBUS' ANCHOR AT CARIBBEAN SHIPWRECK SITE
The Discovery Channel series "Cooper's Treasure," which returns on Friday June 22 at 9 p.m. ET, documents the latest chapter in Miklos' quest. Miklos sets out to track down 11 shipwreck sites in the Bahamas that may be loaded with silver, gold and other treasures, potentially worth billions of dollars.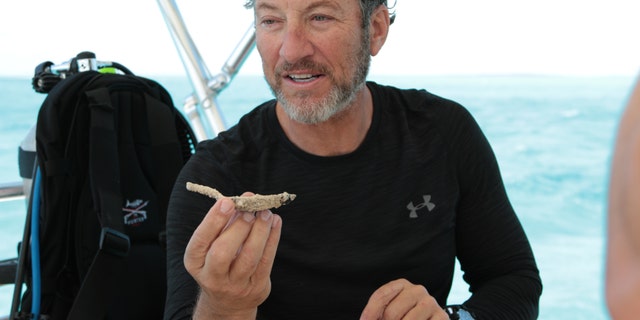 "There is a list of 11 wreck sites that are in this area that Gordon told me about," Miklos told Fox News.
Information provided by Cooper before his death indicates that there could be as much as 290 tons of silver alone across the 11 sites, which were visited in 1966 by Cooper's exploration partner, Kip Wagner.
NASA ASTRONAUT'S SPACE TREASURE MAP SPARKS HUNT FOR CARIBBEAN WRECKS
Miklos, however, did not have the specific locations of the wrecks before embarking on the Bahamas project. "It was very difficult, but we managed to have some success with this," he said. "I can tell you that we did not find all of them, we found a few of these 11 – I believe that we're getting close to something."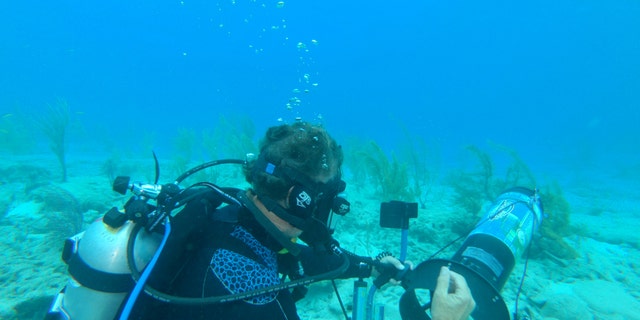 Cooper's research has already helped unearth some fascinating discoveries. During the previous season of the show, Miklos and his team used the map to make a remarkable find in the Caribbean — a centuries-old anchor believed to be from one of Christopher Columbus' ships.
Analysis of the anchor, which was found off the Turks and Caicos Islands, reveals that it dates to between 1492 and 1550. The overall size of the anchor and its estimated weight indicated that it was a "bower" anchor from a 300-ton vessel, the typical size of a Columbus-era ship.
SHIPWRECK SECRETS REVEALED: CANNONS, ANCHOR FROM TREASURE-LADEN WRECK DISCOVERED
Within a few hours of finding the anchor, it was returned to the seabed in order to meet the stringent salvage regulations of the Turks and Caicos Islands. The status of the anchor remains under review.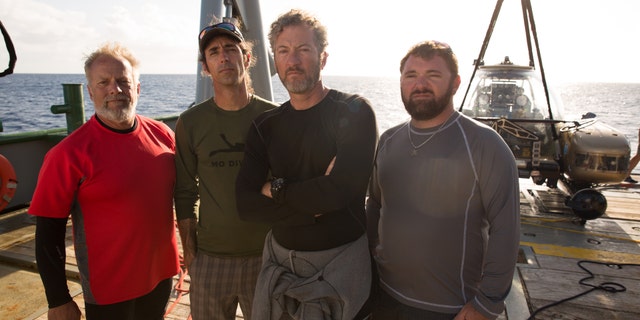 For the latest season of the show, Miklos told Fox News that he had more resources at his disposal. "We had at least six boats available to us," he said. "We had new technology — night vision, an underwater scanning device, and we upped our game in our magnetometer surveys."
Miklos' team also used a submarine for deep water dives. The treasure hunters even "jerry-rigged" a metal detector onto the sub, according to Miklos.
PIRATE MYSTERY SOLVED: HUMAN BONE REVEALS ITS SECRETS
The cost of the additional gear, however, shortened the project's window from four months to eight weeks. "We had to think outside the box the entire time, we were desperate to find something in a short amount of time," said Miklos. "But we went after it and we were successful."
Fox News' Lindsay Carlton contributed to this article.
Follow James Rogers on Twitter @jamesjrogers