Mystery sea creature 'like a crocodile' found washed up on beach in Wales baffles experts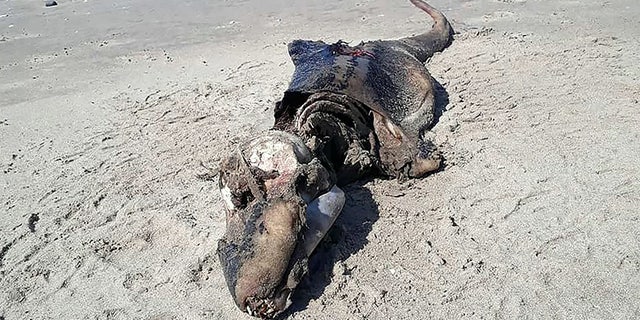 A mysterious "crocodile-like" creature found washed up on a Welsh beach has left experts baffled.
The five-foot long carcass found on Rhossili Beach, Swansea has a long head, giant jawline and slender tail.
Beth Jannetta, 41, who discovered the monster while walking her dogs, sent a photo of the creature to experts, hoping they would identify it.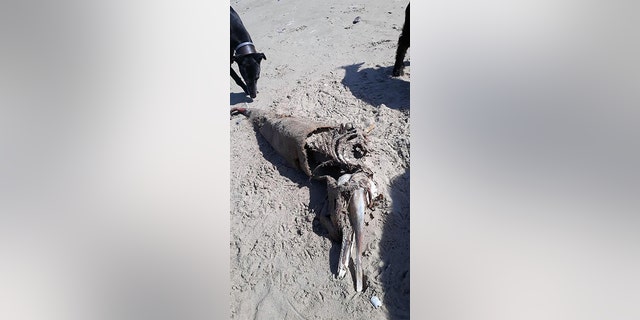 But experts are not sure if it is a type of whale, dolphin or porpoise.
Beth said: "It looked like a well rotted cetacean to me. Other people think it is something different, like a crocodile.
"It would be very interesting to find out what species it is."
Bioscience expert Dr. Dan Forman, from Swansea University, said: "When you look at it the first time you may think it is a crocodile, but it is certainly not.
"There is a big bulge on the base of the skull which is characteristic of a cetacean."
He added: "We get a reasonable amount of whales and dolphins, a lot which are dead and decomposed in places like Pendine and Rhossili.
"From the data around carcasses washed up, there seems to be a cluster this time of year around June and July.
Mark Hipkin, National Trust area ranger, who was called to collect the body, said he thought it was a porpoise.
He said: "We have porpoises washing up quite regularly, as well as dolphins and seals and sometimes sheep."
This story originally appeared in The Sun.