Muhammad Ali letter to Nelson Mandela up for auction in the UK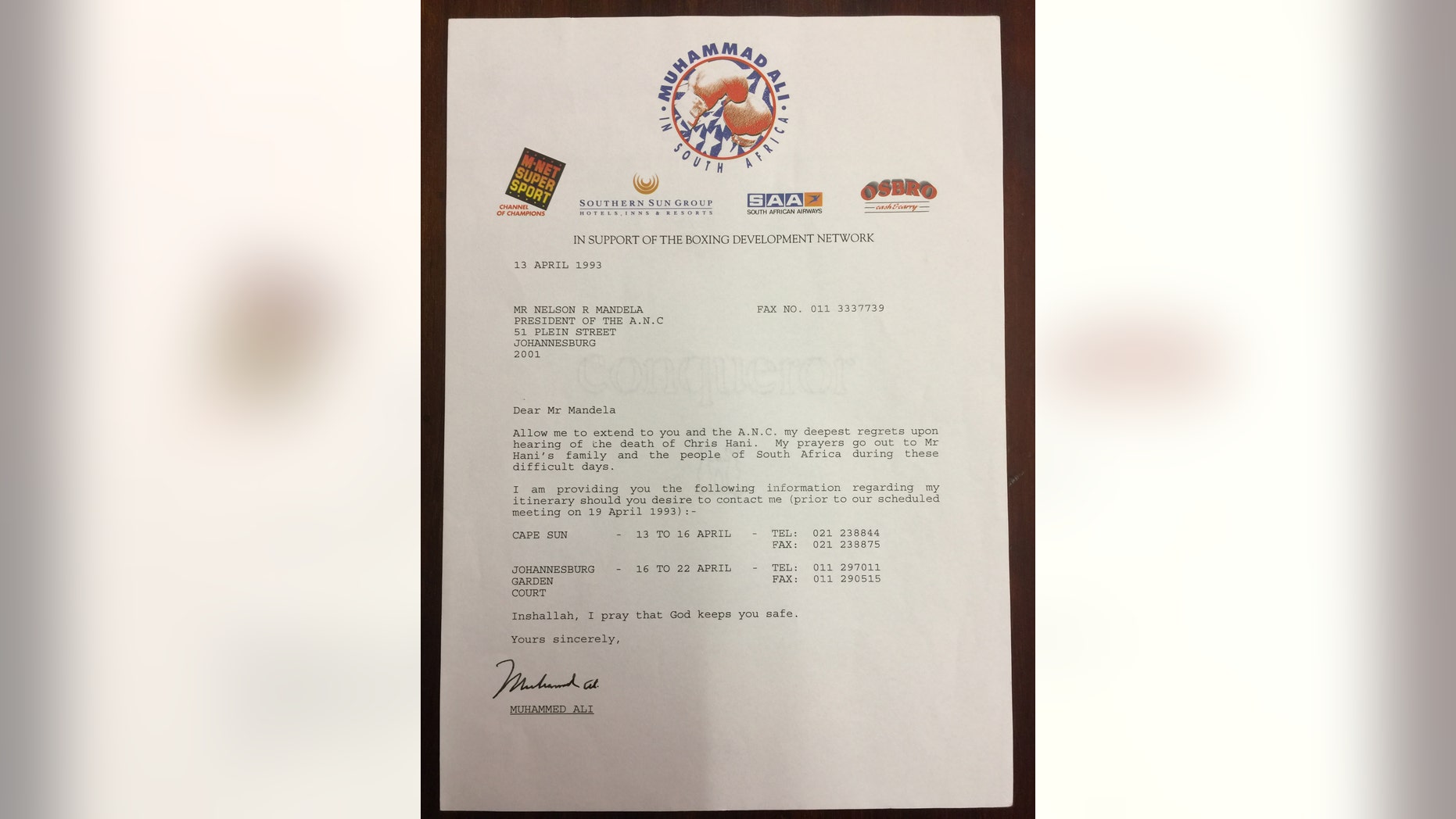 A rare letter from boxing legend Muhammad Ali to Nelson Mandela is up for auction in the U.K. this weekend.
In the typed and signed letter, dated April 13 1993, Ali expresses his condolences to Mandela for the death of his friend and anti-apartheid activist Chris Hani, who was assassinated April 10, 1993. Hani, the chief of staff of the armed wing of the African National Congress (ANC), was killed by a far-right extremist outside his home in Boksburg, near Johannesburg.
"Allow me to extend to you and the A.N.C. my deepest regrets upon hearing of the death of Chris Hani," explains Ali, in the letter. "My prayers go out to Mr Hani's family and the people of South Africa during these difficult days."
WINNING BID FOR ANNE FRANK POEM STUNS AUCTIONEERS
Ali was in South Africa for a short time in April 1993, according to auction house Henry Aldridge & Son, arriving shortly after Hani's assassination. In the letter, he provides Mandela with details of his itinerary prior to a scheduled meeting on April 19.
Mandela was ANC leader when the letter was written. He was elected president of South Africa the following year.
The letter was typed by the personal assistant to the general manager of the Elangeni hotel in Durban where Ali was staying at the time. A letter of provenance signed by the personal assistant explains the story behind the document. "Due to my nervous excitement about typing a letter of such historical importance I misspelt the name Muhammad replacing the last 'a' with an 'e'," the letter of provenance reads. "The letter was taken to Muhammad Ali and duly signed before someone noticed the error and returned it to me. I typed it again but kept the incorrect copy for posterity," the letter of provenance reads, in part.
EARLIEST-KNOWN TEN COMMANDMENTS TABLET SELLS AT AUCTION FOR $850,000
Ali attended Hani's funeral on April 19 1993.
"This letter represents a rare opportunity for a collector to acquire an item of this importance from one of the Greatest sportsman and one of the most iconic and charismatic figures of the 20th century to one of the Greatest men in history," Henry Aldridge & Son Auctioneer Andrew Aldridge told FoxNews.com, via email. "It is a truly iconic cross collectable and will appeal to collectors of Ali memorabilia as well as those who collect Nelson Mandela material, items relating to Apartheid, political history and collectors of iconic memorabilia."
The letter, which has a pre-sale estimate between $7,461 and $9,948, will be auctioned on Saturday.
Follow James Rogers on Twitter @jamesjrogers