Moth lays two eggs in reporter's ear on live TV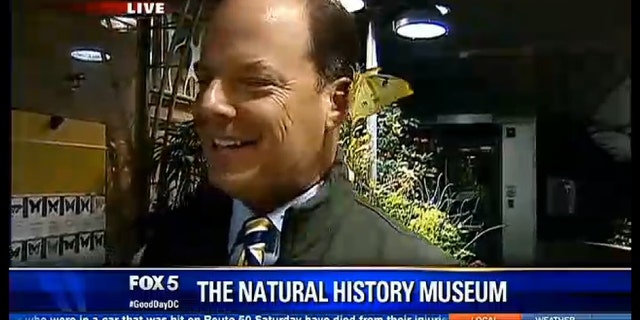 Fox 5 reporter in Washington, D.C. Bob Barnard had quite the unexpected surprise when he reported live from the Smithsonian's National Museum of Natural History. Following his on-air appearance Monday, Barnard found that a moth laid two eggs in his ear — not the typical day in the office.
Barnard was at the Smithsonian's Butterfly Pavilion while covering international Museum Week when a large green African moon moth landed on his vest. The curious insect eventually traveled up to Barnard's ear, where he left the veteran reporter with the unexpected gifts.
Later that day, Barnard tweeted out the photographic evidence of the surprising encounter.
"That African Moon Moth on my ear on live TV laid two eggs! (Yuck)…" Barnard wrote.