More Leaks Plague Space Shuttle, Delaying Launch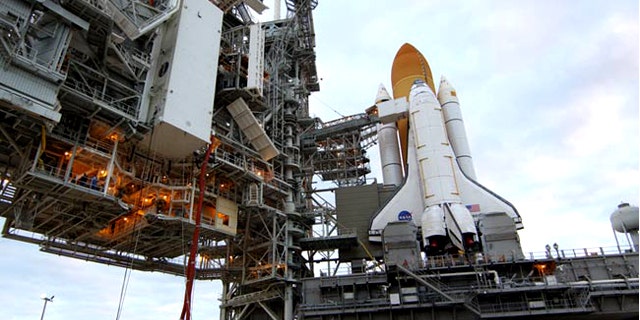 The space shuttle Discovery is leaking again, delaying its planned launch by at least one day -- to Nov. 2 -- as engineers work to fix the spacecraft in time for its last space voyage, NASA officials say.
Discovery was slated to launch on its final mission on Nov. 1, but two leaks in one of its twin aft-mounted engine pods forced the delay. The leaks are in helium and nitrogen seals used to pressurized fuel line plumbing in one of Discovery's orbital maneuvering system pods. They are unrelated to a fuel leak on Discovery that NASA repaired last week, NASA officials said.
"The leaks must be fixed before launch and the decision was made to delay picking up the launch countdown by at least a day," NASA officials said in a statement.
That means Discovery's earliest chance to launch is now Tuesday, Nov. 2 at 4:14 p.m. EDT (2014 GMT).
Discovery is launching on an 11-day mission to the International Space Station to deliver a new storage module and a humanoid robot called Robonaut 2. The mission is Discovery's 39th and last trip to space before it is retired for good. Discovery is NASA's oldest flying shuttle and has flown the most missions of any orbiter in the fleet. [Video: Legacy of Shuttle Discovery]
NASA is retiring its entire shuttle fleet -- Discovery, Atlantis and Endeavour -- next year to make way for a new plan aimed at sending astronauts to visit an asteroid and Mars. Discovery is the oldest of NASA's space shuttles and has made more spaceflights than any other orbiter fleet.
Discovery's flight will be NASA's 133rd shuttle mission since the orbiters first began flying in April 1981.
* Video – Space Shuttle Discovery: A Retrospective, Part 2, Part 3
* GRAPHIC: Meet Robonaut 2: NASA's Space Droid, Robonaut 2 Photo Gallery
* Want to See Space Shuttle Discovery's Last Hurrah? Here's How
Copyright © 2010 Space.com. All Rights Reserved. This material may not be published, broadcast, rewritten or redistributed.