Missing WWII German submarine found after nearly 73 years lost at sea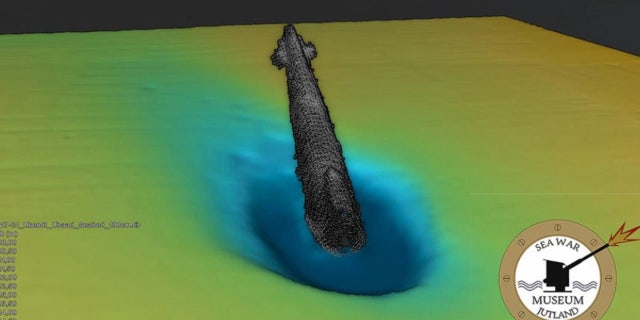 A German submarine from World War II-- rumored to have been used to transport Nazi leadership to South America following the war-- has been located nearly 73 years after being lost at sea.
Denmark's Sea War Museum discovered the U-3523 roughly 403 feet below sea level. The submarine was found off the coast in Denmark's northernmost town of Skagen, nine miles west of where it was reportedly sunk by Britain, according to the paper.
The front of the vessel was buried in the sand and the stern jutted out, according to a report by The Sun published on Tuesday.
The depth of the sub's final resting place, however, makes it difficult for researchers to reach.
Gert Normann Andersen, the museum's director, told the paper that the discovery dispels rumors of a potential escape that stemmed from the failure to locate the vessel after it was sunk by a British B24 Liberator attack on May 6, 1945.
"I think the rumor developed because U-3523 was a very modern, long-distance U-boat and some Nazis tried to escape with valuables in the last days," Andersen said. "But the submarine was going to Norway, and not to South America with Nazis and valuables."
A copy of the last telegram from the submarine from May 5, 1945 was obtained earlier by Andersen. The telegram makes no indication of having high-ranking officials onboard or valuables.
Rumors about Hitler fleeing to South America just before the war came to an end have also been powered by declassified documents from U.S. intelligence. In one instance, the documents cited allegations from a former SS trooper named Phillip Citroen that claim Der Führer sought refuge in Colombia and also Argentina, the paper reported.
Adolf Eichmann, a leading architect of the Holocaust, and Auschwitz Dr. Josef Mengele are known to have escaped to South America, according to the paper.
Out of the 118 Type XXI submarines built by Nazi Germany during the war, only two were deployed before WWII ended because of disregard for quality control, the paper reported. The design was later copied Britain, the US, France and the Soviet Union.
The only other original Type XXI submarine is located at the German Maritime Museum in Bremerhaven.