Michigan girls discover World War I practice bomb while diving for treasure in lake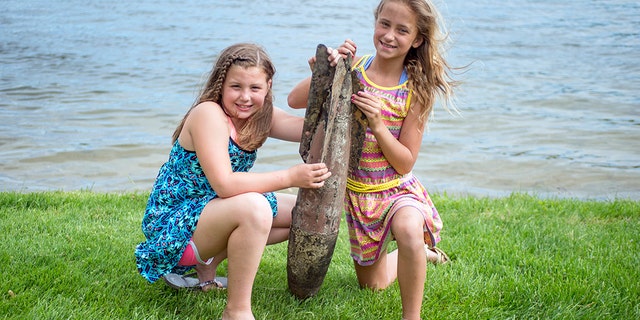 NEWYou can now listen to Fox News articles!
Two girls found unexpected treasure while diving to the bottom of a Michigan lake during a game of "mermaid" on Tuesday.
Paige Burnett, 10, was sweeping the floor of Lobdell Lake in Argentine Township with her hands when she touched something strange. She tried to pull the item out but it was too heavy and wouldn't budge.
When she resurfaced, she recruited her 9-year-old friend Sage Menzies' help. The girls dove under the water, struggling to recover the mysterious metal-like object buried under the dirt.
The girls then asked Burnett's mother for assistance. Together, the group was able to retrieve the 3-foot-long object from the murky water and pull it to shore. Realizing it resembled a bomb, adults nearby called the local police who in turn contacted the Michigan State Police's bomb squad.
"This is definitely one for the books."
"When they realized what it was they said, 'Leave it alone,'" Burnett's grandmother, Yvonne, told The Flint Journal. "It's quite a relic. We had called the police and they called the bomb squad in and they said they have seen these before and they are usually around Lake Huron."
Authorities confirmed the item was a World War I practice bomb — most likely a Mark 2 practice bomb dropped by fighter pilots turn test runs, the Michigan newspaper reported.
The bomb squad drilled a hole in the shell and nothing but mud leaked out. Regardless, it was still a pretty interesting find, Argentine Township police Sgt. Douglas Fulton admitted.
"This is definitely one for the books," he told the newspaper.
Since the object wasn't a threat, officials allowed the girls to keep the practice bomb as a souvenir.
"We were super excited that we had found this instead of just something metal," Menzies told The Flint Journal. "We were saying, 'We could be famous.'"