Medieval skeleton discovered in tree suffered violent death, experts say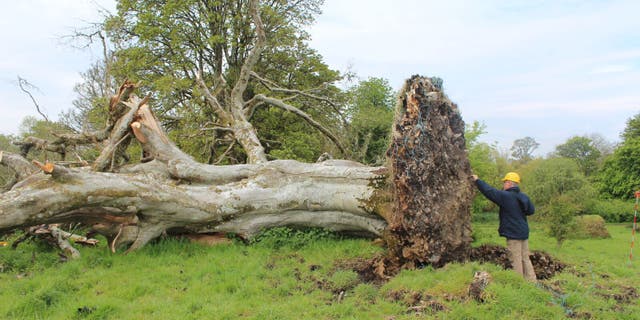 NEWYou can now listen to Fox News articles!
Archaeologists in Ireland have unearthed startling details about the strange medieval skeleton found in the roots of a 215 year-old tree.
The beech tree in Collooney, Sligo, fell during a storm earlier this year, revealing the macabre sight of a skeleton trapped in its roots. The Irish National Monuments Service brought in experts from Sligo-Leitrim Archaeological Services to excavate and analyze the remains, revealing a grisly tale.
Related: Mass grave of new human relative discovered in South Africa, claim scientists
"He had been killed violently," Marion Dowd, director of Sligo-Leitrim Archaeological Services, told FoxNews.com. "We have stab wounds in the upper chest and they were inflicted by a knife – we also have a stab wound in the left hand, which suggests that he was trying to defend himself."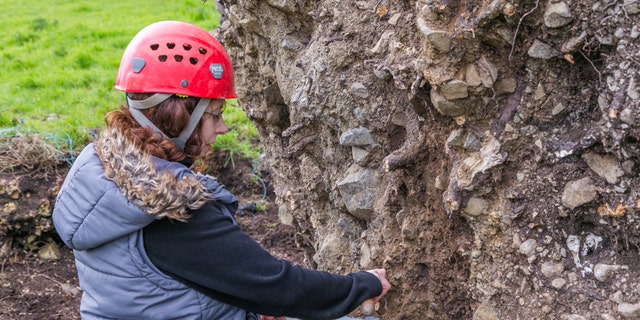 The skeleton is of a young man between the ages of 17 and 20. Radiocarbon analysis has dated the remains to between 900 and 1,000 years old.
"We don't know if he was killed in a battle or if this was a personal dispute," said Dowd, noting that the body was originally buried in a Christian fashion with its head pointing to the west. "His family or community must have buried him," she added.
Dowd told FoxNews.com that whoever planted the tree was unaware of the grave. "It's completely coincidental – the context is unusual," she said. "There are historical records that say there was a church and graveyard in the area, but there are no remains visible today."
Related: Excavation of Rome home shows ancient city bigger than thought
Another aspect of the excavation is unusual – the young man's height. "He's 5-foot-10," said Dowd. "For early medieval society that's pretty tall."
Follow James Rogers on Twitter @jamesjrogers