Man Finds -- and Kills -- 100-Year-Old Fish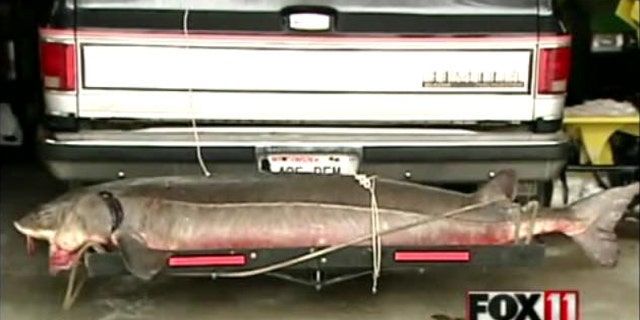 NEWYou can now listen to Fox News articles!
A 212-pound sturgeon that biologists estimate to be 100 years old just met its match. The fish, a sturgeon that's estimated to have been born with William Taft was president, was killed by a spear fisherman Saturday on Lake Winnebago's north shore.
The man, 60-year-0old Ron Grishaber, has been spearing for 43 years, reports Fox11online.com, but he's never encountered anything like this monster.
Grishaber said it took all of his rope and the strength of three people just to slide the sturgeon out of the water and strap it to the back of his truck. While he'd like get the sturgeon mounted, Grishaber says he isn't willing to pay the estimated $3,000-4,000 to have the prize sturgeon on his wall.
Biologists with the Department of Natural Resources say they need to study samples of the fish to definitively age it, but peg the beast's age at about 100 years. According to the agency, this fish would have hatched from an egg laid by its mother in approximately 1910.
At that time, sturgeon stocks on the Great Lakes were nearly decimated from commercial overharvest, driven to such low levels between 1880 and 1910 that the stocks in Lake Michigan are just now beginning to show some signs of recovery.
This fish would have become legal size for the Winnebago spear fishery in 1918 -- the year the U.S. entered World War I. Sturgeon harvest on the Lake Winnebago System was closed from 1915 to 1932; the first modern spear fishery on Lake Winnebago opened in the winter of 1931-32 with a 30-inch minimum size limit and a five-fish-per-spearer season limit.
This fish therefore was legal size for all 78 spearing seasons held since 1932.
For more information, see the full story on Fox11Online.com.