Long-lost 'Nigerian Mona Lisa,' valued at over $280G, found in 'modest' North London apartment
A long-lost 'national icon' painting of a Nigerian princess is up for auction in the U.K. after its surprise discovery in a North London apartment.
"Tutu," a portrait of Princess Adetutu Ademiluyi, was painted in 1974 by the Nigerian artist Ben Enwonwu and media reports have compared it to the "Mona Lisa."
The portrait, which will be auctioned by Bonhams in London on Feb. 28, has a pre-sale estimate of 200,000 to 300,000 U.K. pounds ($280,702 to $421,053).
GOOGLE APP COMPARES SELFIES TO MUSEUM PORTRAITS, GOES VIRAL
Three versions of "Tutu" were painted by Enwonwu between 1973 and 1974, all of which were considered lost until the discovery of the current painting. The image, which is widely known in Nigeria, became a symbol of national reconciliation following the bloody Nigerian-Biafran conflict of the 1960s.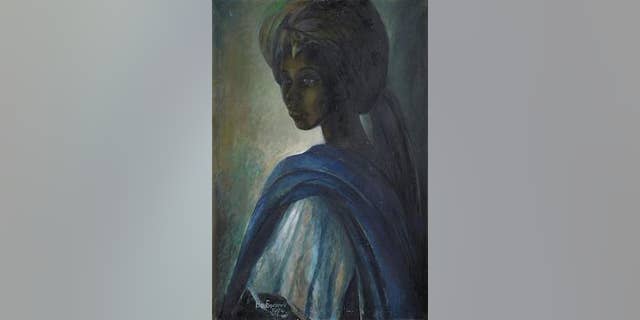 Bonhams' Director of Modern African Art, Giles Peppiatt, discovered the masterpiece after he was called to a "modest" apartment in North London late last year, according to the auction house.
"It was extraordinary to see this painting on the wall, as soon as I saw it I was pretty sure that I knew what it was," Peppiatt told Fox News. "It was way beyond my wildest expectations."
IS GOOGLE'S VIRAL ART APP RACIST?
Peppiatt described the painting's owners, who have requested anonymity, as a "perfectly ordinary," family. "They inherited it from their father, who had business interests in Nigeria," he said.
Bonhams gets regular calls about purported "Tutu" portraits, which turn out to be prints of the 1973 version of the painting. The original painting found in North London, however, is a major find. "I think it's probably the most important painting that Ben Enwonwu ever produced," said Peppiatt.
The portrait of Ademiluyi, a princess from Nigeria's Ife region, disappeared in the 1970s.
LEONARDO DA VINCI'S $450 MILLION 'SALVATOR MUNDI' PAINTING HEADS TO THE LOUVRE ABU DHABI
"It's an amazingly audacious and brave painting — that three-quarter-length pose, gazing directly at you," Peppiatt said. "It's a beautiful painting."
The auction for "Tutu" will also be broadcast live to a Bonhams auction event in the Nigerian capital of Lagos, where bidders will also be able to participate. "Negritude," another work by Enwonwu, will also be auctioned during the event.
"The market for modern and contemporary African art is extremely strong," said Peppiatt. "There has been a huge revival of interest in Nigerian art and modern African art across the board."
Follow James Rogers on Twitter @jamesjrogers