Jesse James jackpot: Outlaw photo bought on eBay for $10 could be worth $2 million
A mysterious 19th-century photograph bought on eBay for just $10 could be worth $2 million after experts identified it as an extremely rare portrait of infamous outlaw Jesse James.
Justin Whiting, who lives in Spalding, U.K., bought the tintype for just 7 U.K. pounds ($10) in July 2017. He noticed a marked similarity between the youth in the picture and a photo of James in a book.
Described as a sort of "19th-century Polaroid," tintype photos were created by applying chemicals to a thin metal sheet.
EXTREMELY RARE PHOTO OF BILLY THE KID AND PAT GARRETT SURFACES, COULD BE WORTH MILLIONS
"I noticed the picture for sale — it was $10. It was a bit blurry on the site but when I got it, it was a lot clearer," he said, according to SWNS. "I thought to myself: 'Gee wizz, this could be a real photo!' I've been obsessed with American outlaws for years and read lots of books and study their faces."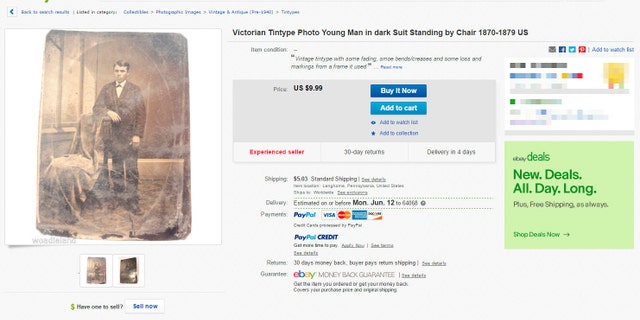 Prompted by friends, Whiting contacted forensic experts in the U.S., who analyzed the picture. The collector, who has been out of work since 2003 as a result of back problems, has been told that the photo could be worth at least $2 million, SWNS reports.
Born on Sept. 5, 1847 in Clay County, Mo., James earned notoriety as a bank and train robber. He was also a Confederate guerrilla during the Civil War. The outlaw was shot dead by Robert Ford, a member of his gang, on April 3, 1882.
NEW IMAGE SHOWS BILLY THE KID PLAYING CROQUET
California-based 19th century photography expert Will Dunniway studied Whiting's picture and said that it was a genuine portrait of James taken when the baby-faced outlaw was just 14.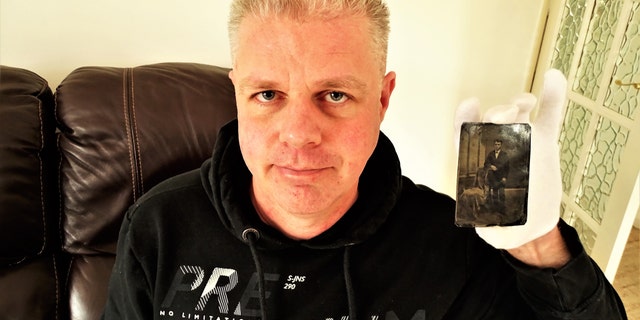 "It was an easy match since it was compared to a longtime known image of the young Jesse James at 14," he told Fox News, via email. "Justin's image, however, was the same pose taken the same day by the same photographer."
The Jesse James photo is an "amazing find," according to Dunniway, who has also worked to authenticate famous photos of Billy the Kid. "There are no others like it," he said. "A one-of-a-kind original that most likely was handled by the teenaged Jesse James himself."
RARE PHOTO SHOWS JESSE JAMES WITH HIS KILLER, SAYS FORENSIC ARTIST
The photo was also sent to Los Angeles-based forensic expert Kent Gibson, who confirmed that the image is authentic. "The Jesse at 14 tintype is VERY similar to an image I found on the James Foundation site. I presume taken at the same session," he told Fox News, via email.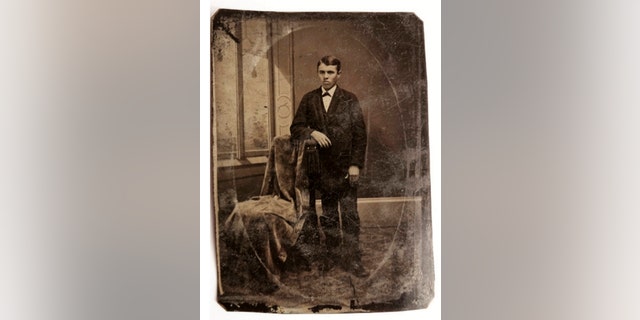 There are very few original photos of outlaws in existence, which means that they can command high prices when they come on the market. A portrait of Billy the Kid taken in Fort Sumner in 1880, for example, sold for $2.3 million in 2011.
An unusual 1878 photo of Billy the Kid and his gang playing croquet has also been appraised and insured for $5 million.
COUPLE DISCOVER 19TH-CENTURY LOG CABIN DURING HOME RENOVATION
Other collectors have hit the jackpot in recent years. A grainy 19th century photo bought at a North Carolina flea market for $10 was found to show both Billy the Kid and his killer Pat Garrett, potentially making it worth millions of dollars. Both Gibson and Dunniway worked on the authentication of that image.
In 2015 a rare photo of James and his assassin Ford surfaced, creating plenty of buzz.
SWNS reports that Whiting has already been in contact with auction house Christie's about the Jesse James picture.
A Christie's spokesperson declined to comment on this story, telling Fox News that the auction house "does not comment on anything which is not consigned for sale."
Follow James Rogers on Twitter @jamesjrogers