James Webb Space Telescope Saved?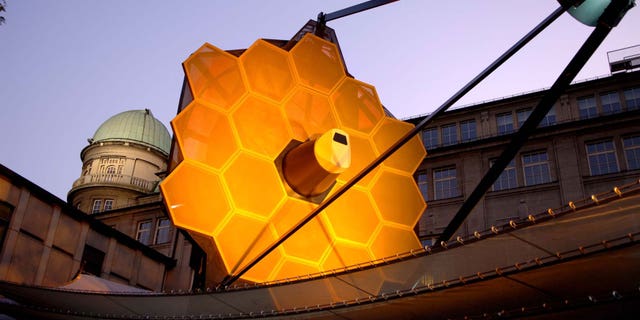 NEWYou can now listen to Fox News articles!
Finally, some good news for the Hubble space telescope's successor: a Senate subcommittee has approved a science appropriations bill today providing funds to the James Webb Space Telescope (JWST) for the next fiscal year.
"The bill provides funds to enable a 2018 launch of the James Webb Space Telescope," the Commerce, Justice, Science Appropriations subcommittee press release states.
ANALYSIS: Eroding NASA Science: Space Telescope Scrapped?
"The Webb Telescope creates 2,000 jobs and will lead to the kind of innovation and discovery that have made America great," said Maryland Democratic Senator Barbara Mikulski on her Senate website. "It will inspire America's next generation of scientists and innovators that will have the new ideas that lead to new products and new jobs."
Mikulski is an outspoken supporter for the continuation of the JWST despite an earlier move by a Republican-dominated House subcommittee to scrap the JWST. The House subcommittee raised serious concerns about NASA mismanagement of the multi-billion dollar project and ballooning costs.
The JWST project is being managed in Mikulski's state.
ANALYSIS: Dare to Dream with the James Webb Space Telescope
The Senator announced that the troubled mission will be allocated $530 million in 2012, substantially more than the $374 million that had been asked for in the president's budget request. Unfortunately, NASA as a whole will receive half a billion dollars less than it received in 2011 -- the agency has been allocated $17.9 billion for 2012.
So, after months of uncertainty, the half-finished and popular space telescope has been saved -- pending a vote on the Senate floor, and assuming the House and Senate bill can find some middle ground -- for another year. But not everyone is popping the champagne corks quite yet.
In the Nature News Blog, American Astronomical Society Executive Officer Kevin Marvel shared his concern that although the JWST may have been saved, there's some concern for what that might mean for other NASA projects.
"It's obviously a hopeful sign," said Marvel. "But we need to understand what the extra addition means. We're concerned about offsets to other divisions."