Israeli archaeologists uncover stunning 1,700-year-old mosaic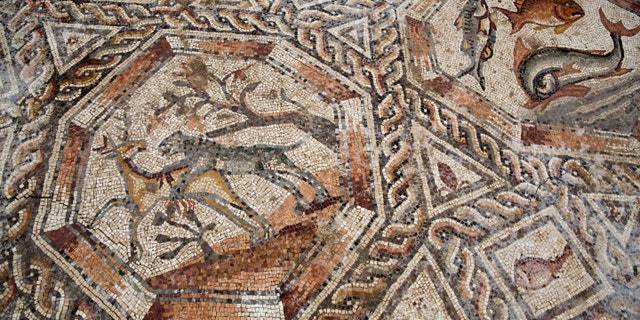 Archaeologists in Israel are showing off a newly-discovered 1,700-year old mosaic this week.
The Roman-era mosaic was excavated in central Israeli city of Lod between June and November 2014 by a team of archaeologists from the Israel Antiquities Authority. The discovery was made during the building of a visitors' center meant to display another mosaic that was found two decades earlier at the same location.
Related: 500-year-old church discovered in slave trade settlement
"The villa we found was part of a neighborhood of affluent houses that stood here during the Roman and Byzantine periods," said Excavation Director Amir Gorzalczany, in a statement.
The colorful mosaic, which measures 36 feet by 42 feet, was the courtyard pavement of the villa and depicts hunting and hunted animals, fish, flowers in baskets, vases and birds. "The quality of the images portrayed in the mosaic indicates a highly developed artistic ability," said Gorzalczany.
The public will have an opportunity to view the mosaic for the first time this week, according to the Israel Antiquities Authority.
Related: The 'Ghost Fleet of Mallows Bay' in pictures
The new mosaic was found just a few yards from the first one, which covered the villa's living room.
The original mosaic has been displayed at the Metropolitan Museum in New York, the Louvre in Paris, and the Hermitage museum in St. Petersburg. It is currently on display at the Cini Gallery in Venice, Italy, and is expected to return to Lod after the visitors' center is complete.
The Associated Press contributed to this report.