International Space Station leak may have been caused by micrometeorite strike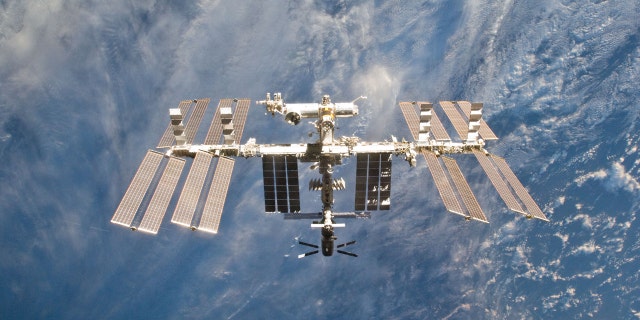 NASA and its Russian counterparts identified a tiny pressure leak on the International Space Station Wednesday, which may have been caused by a micrometeorite strike.
Dmitry Rogozin, head of Russian space agency Roscosmos told state news agency TASS that a "micro-fracture" was found in a side compartment of the Soyuz MS-09 spacecraft currently docked with the space station.
The fracture, he said, may be external damage and is believed to be the result of a micro-meteorite. The fracture caused a drop in pressure and an air leak on the station, according to Rogozin, who said that the problem has been resolved.
ASTRONAUT SCOTT KELLY: MY INCREDIBLE YEAR IN SPACE AND THE 'CRAZY RIDE' BACK TO EARTH
NASA said that flight controllers in Houston and Moscow spotted "a minute pressure leak" around 7 p.m. EDT Wednesday.
The space station crew is conducting troubleshooting and repair work on the leak, NASA explained in a blog post Thursday morning. "The leak has been isolated to a hole about two millimeters in diameter in the orbital compartment, or upper section, of the Soyuz MS-09 spacecraft attached to the Rassvet module of the Russian segment," the space agency explained. "This is a section of the Soyuz that does not return to Earth."
Once the hole was identified, crewmembers applied Kapton tape, which slowed the leak. "Flight controllers are working with the crew to develop a more comprehensive long-term repair," NASA added. "Once the patching is complete, additional leak checks will be performed. All station systems are stable, and the crew is in no danger as the work to develop a long-term repair continues."
UNITED LAUNCH ALLIANCE PREPS FOR THE RETURN OF MANNED SPACE MISSIONS FROM CAPE CANAVERAL
NASA and the Russian space agency Roscosmos operate the orbiting space lab along with the European Space Agency, Japan's JAXA and the Canadian Space Agency.
Six crew members are on the ISS, led by station Commander and NASA astronaut Drew Feustel. NASA Flight Engineers Ricky Arnold and Serena Auñón-Chancellor are also on the space station, along with Alexander Gerst of ESA and Oleg Artemyev and Sergey Prokopyev of Roscosmos.
The six crew members gathered in the Russian segment of the station after they were notified of the leak, NASA said.
The space station, which has been continuously occupied since November 2000, has an internal pressurized volume equal that of a Boeing 747, according to NASA.
Follow James Rogers on Twitter @jamesjrogers