Incredible video shows 4-mile iceberg breaking in Greenland
A team of scientists from New York University captured a video of a 4-mile iceberg breaking away from a glacier in eastern Greenland.
The massive new iceberg, which would stretch from lower Manhattan up to Midtown in New York City, can be instructive to scientists and policy makers who are studying the impact of human actions on global sea-level rise.
"Global sea-level rise is both undeniable and consequential," David Holland, a professor at New York University's Courtant Institute of Mathematics and NYU Abu Dhabi who led the research team, said in a statement. "By capturing how it unfolds, we can see, first-hand, its breathtaking significance."
PAYPAL SLAMMED AFTER TELLING CUSTOMER THAT HER DEATH 'BREACHED ITS RULES'
When large chunks break off of glaciers, the process is known as calving. This can give researchers a sense of how the overall global climate is changing.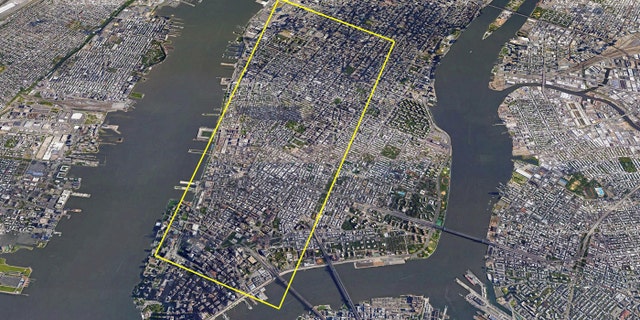 "The better we understand what's going on means we can create more accurate simulations to help predict and plan for climate change," Denise Holland, logistics coordinator for NYU's Environmental Fluid Dynamics Laboratory and NYU Abu Dhabi's Center for Global Sea Level Change, said in the statement.
The breaking off took place over the course of 30 minutes and began the night of June 22; the video has condensed the time of the incident to about 90 seconds.
In 2017, scientists estimated that a collapse of the entire West Antarctic Ice Sheet, which is two-and-a-half miles thick and about as large as Texas, would raise global sea levels by 10 feet—inundating coastal cities around the world.
Thus far, according to the NYU scientists, the Thwaites Glacier—part of the West Antarctic Ice Sheet—has already drained a mass of water that's roughly the size of Florida.
The research team at NYU is examining the forces behind sea-level rise under a grant from the National Science Foundation.