In China, the world's biggest radio telescope is now complete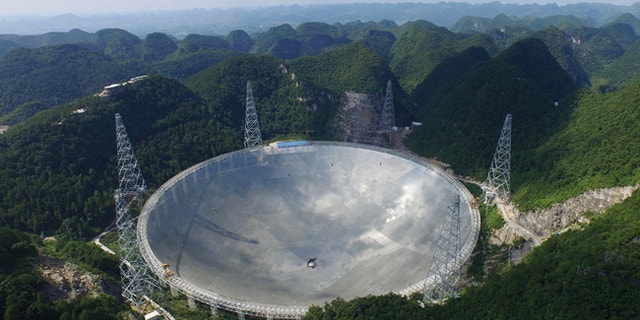 NEWYou can now listen to Fox News articles!
The largest radio telescope in the world is getting ready to start listening to the cosmos now that it's finished, the Chinese Academy of Sciences (CAS) announced on Sunday.
The mammoth telescope, located in the mountains of Guizhou, China, has an aperture that's over 1,600 feet long, and the entire size of the instrument is the same as 30 soccer fields, according to CAS.
At a cost of $180 million, and made up of 4,450 panels, the telescope will help scientists conduct astronomical research and will even listen for signs of extraterrestrial life. It's called FAST, for Five-hundred-meter Aperture Spherical Telescope. Now the telescope will undergo a testing phase, CAS said.
"Once completed, FAST will lead the world for at least 10 to 20 years," Jun Yan, director general of the project, said in a statement.
Previously, the biggest such telescope was the Arecibo Observatory in Puerto Rico. CAS said that the FAST facility will also be open to scientists from outside of China to conduct research.
Follow Rob Verger on Twitter: @robverger