Huge hidden WWII sign revealed on Irish coast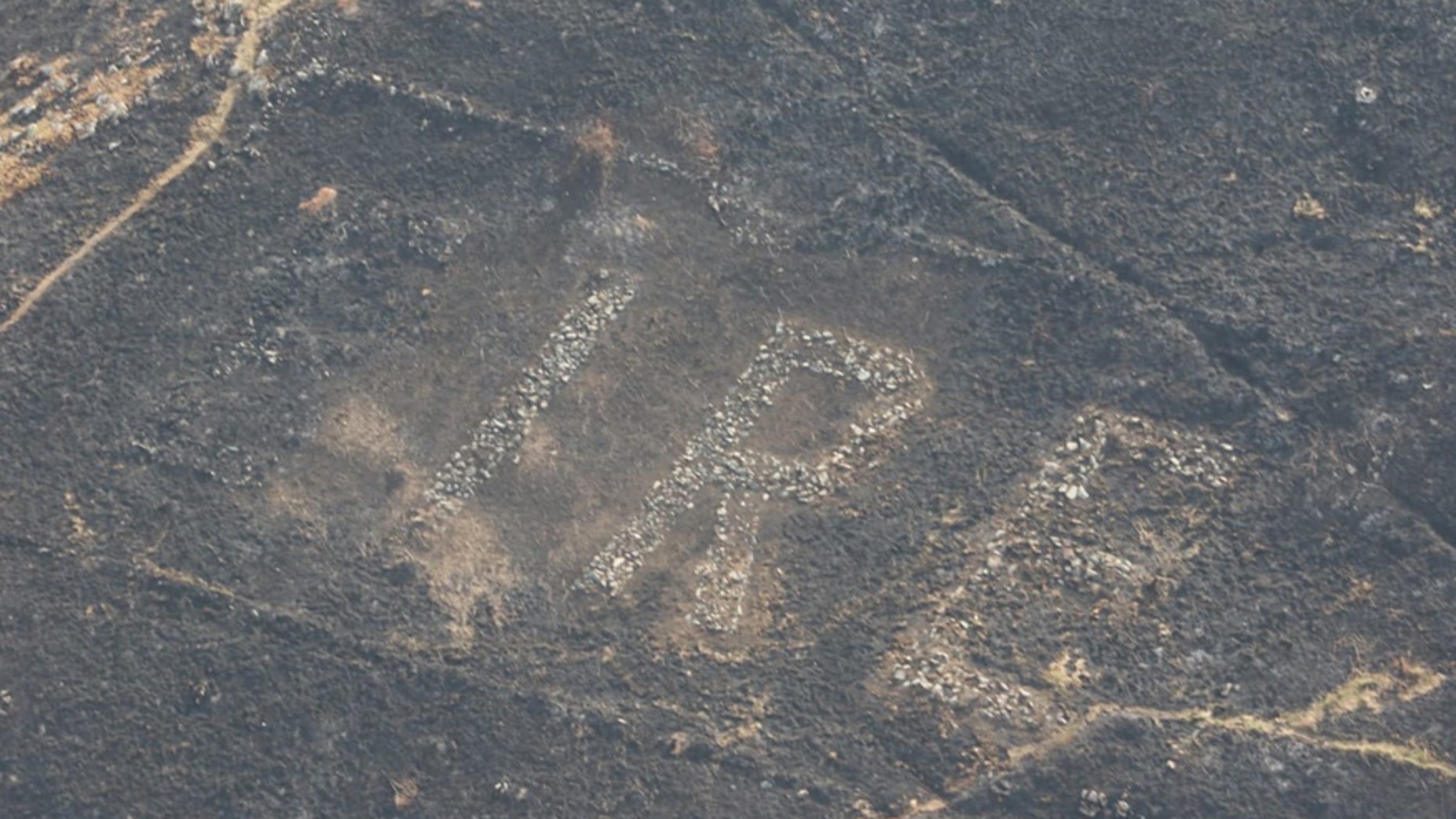 A massive sign from World War II warning bomber crews, that they were entering neutral Irish airspace, has been revealed thanks to a coastal wildfire.
Sky News reports that a large gorse fire last month exposed the huge signal at Bray Head on Ireland's east coast. The sign spells out the word "Eire," which is the Irish word for Ireland.
Designed to signal to Allied and German aircrews that they were entering neutral territory, the sign is one of dozens that were built around Ireland's coastline, most of which are no longer visible.
DROUGHT REVEALS 'GHOST GARDENS,' ANCIENT CEMETERIES, LOST CITIES ACROSS BRITISH ISLES
Built from stones on a headland, the Bray's Head sign had been hidden for years by thick undergrowth, according to Sky News. However, recent aerial photos taken by a Garda (Irish Police) Air Support Unit clearly show the wartime signal.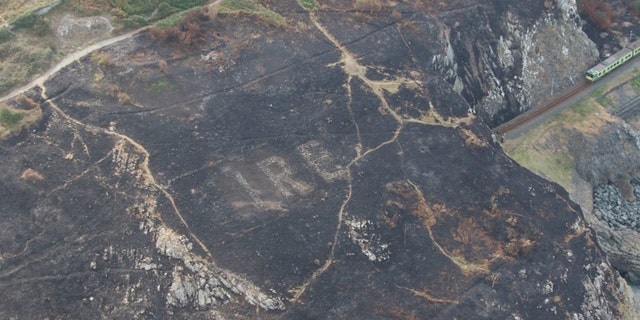 "Fires on Bray Head expose amazing World War 2 landmarks. The fires exposed the old Eire 8 sign, which is in reasonable condition," tweeted the Irish Air Corps.
"We see these around the coastline but haven't seen this before," tweeted Garda Traffic.
The faint outline of a white stone square that once framed the signal can also be made out in some of the images.
WRECK OF WWII SHIP DISCOVERED 74 YEARS AFTER IT DISAPPEARED DURING A RESCUE MISSION
The Garda Air Support Unit is operated by the Irish Air Corps and Garda specialists.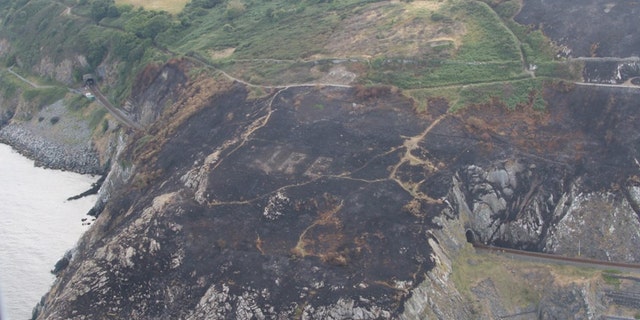 Huge signs such as the one of Bray Head dotted the Irish coastline during World War II. The signals were created in 1942 and 1943, according to the website Eire Markings, clearly identifying Irish territory.
Ireland was neutral during World War II and authorities wanted to clear identify Irish territory to Allied and German pilots. The German Luftwaffe bombed neighboring Northern Ireland during the war, targeting Belfast in particular. The city's shipbuilding industry was an important part of the British war effort and Belfast was also home to military aircraft manufacturing.
WRECKAGE OF WWII B-24 BOMBER DISCOVERED 74 YEARS AFTER IT WAS SHOT DOWN
"Today, we take high technology navigational aids for granted. In the 1940s, GPS did not exist," says Eire Markings. Approximately 85 of the signs were built, the website adds. The group has located more than 15 of the signs on Ireland's western coastline. "Eight of them are still to be seen on headlands in Donegal, where the greatest number of them have survived," it said.
This summer's heatwave in the British Isles has revealed a host of long-hidden historical sites that have suddenly become visible through the parched earth.
In Wales, a number of archaeological sites have suddenly appeared in fields of ripening crops and rain-starved grassland. Viewed from the air, prehistoric enclosures, Roman buildings and ancient cemeteries have become visible across the country.
HUGE WORLD WAR II SHIPWRECK RAISED FROM THE DEPTHS IN MASSIVE SALVAGE OPERATION
The eerie outlines of long-vanished structures and monuments are showing up in a number of places. In Lancashire in Northern England, for example, a "ghost garden" has appeared in the grounds of Gawthorpe Hall, which dates back to the 17th century.
Other sites visible in England include a "phantom mansion" in Nottinghamshire and the outline of a World War II airfield in Hampshire, the BBC reports.
In Ireland, aerial footage taken by a drone showed the remains of a previously unknown "henge" or enclosure, at Brú Na Bóinne, a World Heritage site in County Meath.
Follow James Rogers on Twitter @jamesjrogers