How can I see the total solar eclipse?
Many people may look to the skies on Aug. 21 to watch a total solar eclipse pass over the United States - but it's important to protect your eyes and use the correct tools to safely view the event. Here's what you should know.
What is a total solar eclipse?
"It is this wonderful time when everything has to align just perfectly," Dr. Michelle Thaller, assistant director of science for communications at NASA's Goddard Space Flight Center, told Fox News.
A total solar eclipse is "when the moon from where you're standing completely covers the Sun," she explained. During this type of eclipse, the moon will cast a shadow down onto Earth, Thaller said.
SOLAR ECLIPSE 2017: NASA ISSUES SAFETY WARNING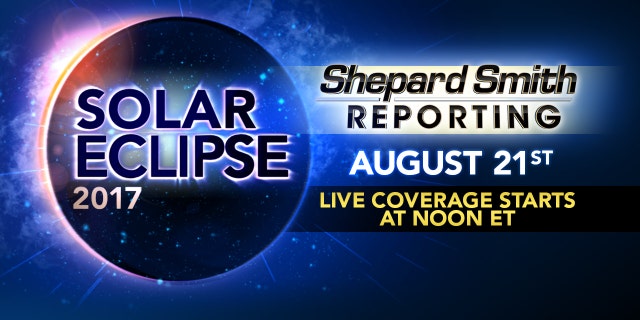 For a total solar eclipse, it's only safe to look directly when "totality" takes place - meaning the approximate two-and-a-half minutes that the sun will be entirely blocked by the moon, she said.
Eclipse glasses
Thaller called these types of solar filters the "easiest and most direct" method of safely watching the eclipse.
If you're using eclipse glasses, NASA says online that they ought to meet the ISO 12312-2 international safety standard for solar radiation, and have the manufacturer name and address printed on them to distinguish them from counterfeit glasses. Consumers should keep in mind that eclipse glasses shouldn't be used if they are more than three years old or if the lenses have wrinkles and scratches.
EARTH WILL HAVE ITS LAST TOTAL SOLAR ECLIPSE IN ABOUT 600 MILLION YEARS
On its website, the American Astronomical Society features a list of "Reputable Vendors of Solar Filters & Viewers," and indicates endorsed glasses can be bought at places like 7-Eleven, Lowe's and Walmart.
Pinhole viewing
Thaller said that if you cannot use eclipse glasses, the next best option is to "punch a small hole in something," or use an object with holes like a kitchen colander.
"You don't look up at the sun through the hole," she said, giving an example that if you let sunlight shine through a hole in a piece of cardboard, you can see the sun projected through the hole.
2017 TOTAL SOLAR ECLIPSE WILL BE 'ONE OF THE EVENTS OF THE CENTURY'
Thaller also suggested to "look for opportunities in nature," giving an example of a tree. NASA explains online that you can "just look at the shadow of a leafy tree during the partial eclipse; you'll see the ground dappled with crescent Suns projected by the tiny spaces between the leaves."
Other considerations
Interested in looking at the eclipse with the help of a telescope? It should have a solar filter.
"Never look through a telescope without a solar filter on the large end of the scope," NASA cautions.
THE 2017 SOLAR ECLIPSE MAY PROVE THE SUN IS BIGGER THAN WE THINK
The space agency also says, "No matter what recommended technique you use, do not stare continuously at the sun. Take breaks and give your eyes a rest!"
Where specifically can I see the total solar eclipse?
If you're interested in watching the total solar eclipse, you "need to get yourself in a 70-mile wide strip from Oregon to South Carolina," Thaller said.
However, she said that everyone in North America will be able to see a partial solar eclipse, which will last about four hours. With a partial eclipse, only a portion of the sun is blocked, and the sky may be bright, according to Thaller.