Henry V warship mystery solved?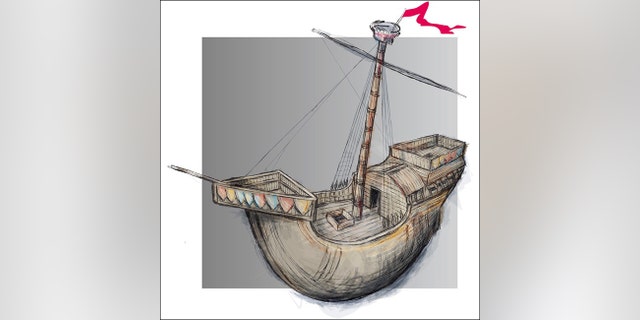 NEWYou can now listen to Fox News articles!
If only the mud could talk.
U.K. government agency Historic England reports that a shipwreck buried deep under the Hamble River in Hampshire, England is believed to be the 'Holigost', a warship from King Henry V's fleet during the Hundred Years War. If verified, the wreck would be "a tangible link with the life and times of Henry V," according to Historic England.
The Holigost was built using repurposed materials from a captured Spanish ship called the Santa Clara. It was constructed using a method known as "clinker built," with overlapping timber planks and weighed between 740-760 tons. Because the ship suffered from leaks and timber decay, a diver named Davy Owen was commissioned to make repairs, a move some consider to be the first recorded service of this kind.
Related: 50 graves uncovered at medieval pilgrimage site in England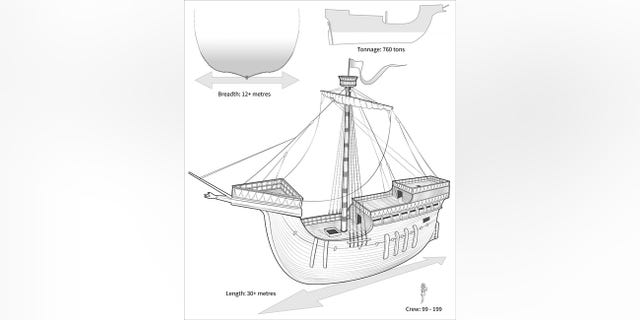 The image on the right is a technical drawing reconstruction of the 'Holigost' . (Historic England)
The ship was named in honor of Henry's affinity for the holy trinity, and Historic England writes that it, "was built to further Henry's war aims, but its decoration and flags also reflected both his personal religious devotion and his political ideas. Unusually, this included a French motto Une sanz pluis, 'One and no more', which meant that the king alone should be master."
The Holigost joined Henry V's fleet on Nov. 17, 1415, and was in operation from 1416-1420. During its heyday, it was home to a crew of 200 sailors and up to 240 soldiers, alongside weaponry that included seven cannons, bows, arrows, poleaxes and spears.
The wreck was discovered by historian Ian Friel, who was reviewing documentary evidence for the book "Henry V's Navy", which examines naval conflict during the period. Friel noticed the wreck when he worked in the former Archaeological Research Centre (ARC) at the National Maritime Museum, in Greenwich. He later made a connection using documentary evidence that the Holigost was laid up in the vicinity, and despite confirmation of a solid object in the mud, the project ended.
Since then, however, Historic England says it is moving to protect the ship and it will conduct further research on the vessel.
Related: Antikythera wreck yields more treasures of Ancient Greece's '1 percent'
"I am utterly delighted that Historic England is assessing the site for protection and undertaking further study," Friel told Historic England, comparing it to the re-discovery of another of Henry V's ships, the Grace Dieu, in the Hamble River. "In my opinion, further research leading to the rediscovery of the Holigost would be even more important than the identification of the Grace Dieu in the 1930s. The Holigost fought in two of the most significant naval battles of the Hundred Years War, battles that opened the way for the English conquest of northern France."