Helmet cam catches alligator leaping out of water, attacking kayaker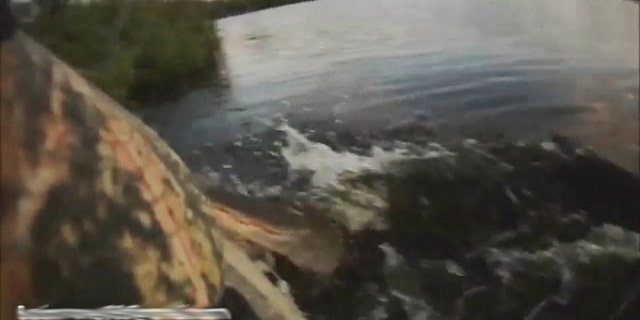 An alligator leapt out of the water and hit a Florida fisherman in the arm -- and he caught the entire terrifying incident on his helmetcam.
Thomas Swiader Jr. was fishing in a kayak on Triplet Lake in Casselberry, 20 miles North of Orlando. He was alone except for his girlfriend's Yorkie Buffy, he thought. That's when the gator jumped him, knocking the dog into the water and giving Swiader the shock of his life.
"I had a line out at the time. I was just sitting there relaxing," Swiader told the Palm Beach Post News. "It happened so fast, I didn't know what happened. It hit me so hard; it whacked me in the arm. My arm was throbbing. I'm surprised I didn't go in the water," he said.
The quick thinking Swiader grabbed the dog's leash and pulled it out of the water -- all the while cursing a blue streak -- before furiously backing his kayak away from the area.
Swiader doesn't carry a gun while fishing -- but said he may consider it in the future.
"Never thought I had to if I am just paddling around fishing, I will think twice about not carrying one from now on," he wrote in response to a question about the helmet video, which he posted to YouTube (warning: graphic language).
Swiader told the Palm Beach Post News that he called Florida's Fish and Wildlife Conservation Commission about the incident. The agency said the incident may have been caused due to mating season.
Swiader said he believes the gator was after Buffy.